Global Sun Care Market Predicted To Reach €9.9 Billion By 2020 As Retailers Enjoy Summer Sales Boost
Published on Jul 31 2016 1:26 PM in A-Brands tagged: Skin care / Sun Care / SPF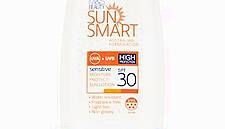 The global sun care market is projected to reach €9.9 billion - or US$11.1 billion - by 2020, according to GIA Inc, driven by growing consumer awareness of the importance of sun protection along with new product development from major sun care manufacturers such as Bayer Healthcare, Beiersdorf AG, Clarins Group, Johnson & Johnson,
Neutrogena Corporation, Lancaster, L'Oréal S.A and Shiseido Co. Ltd.
Europe represents the largest market worldwide in sun care with emerging economies such as Asia-Pacific, Latin America and Eastern Europe set to drive futher growth in the sector.
Key market drivers include increasingly popular sun care products with healthy ingredients, a growing consumer awareness of the harmful effects of UV, rising demand for sun care products with SPF, and rising disposable incomes in emerging markets.
Growth in this lucrative market will also be driven by the development of more effective sun care formulations featuring natural and organic ingredients.
As Europe heads into full holiday season, consumers are driving demand for sun care products for sensitive skin and other summer-related beauty and personal care products.
Technology advancements in innovative, easy-to-apply formats is sure to drive increased demand for supermarket and pharmacy products to help consumers cope with skin and other personal conditions during hot weather.
In 2015 British retailer Marks and Spencer launched the SUN SMART own-label sun care range. Created by leading Australian sun care experts, the advanced formulas are available in a wide selection of sun protection factors and defend against UVA (ageing) and UVB (burning) rays with products to suit all ages.
Scientifically developed for Tesco, the Pro Formula For Men (SPF15) Moisturiser contains soothing chamomile & aloe vera along with SPF15 protection to protect, hydrate and condition skin. Meanwhile, Tesco's competitively-priced Aloe Vera Body Lotion is a non-greasy, easily absorbed formulation - helping to hydrate after a day in the sun.
Similarly, Tesco's Sensitive Skin Body Lotion, formulated for sensitive skin, is a fragrance- and colour-free cream.
A new SPF cream has been developed - one of the first skincare products to protect against HEVL, high-frequency light that is responsible for 50 per cent of the oxidative stress from sun exposure - equal to the amount generated by UVA (46 per cent) and UVB (4 per cent) combined.
HEVL SPF50 Face Crème by Skin Shop offers 3-spectrum protection against UVA, UVB and HEVL. The face cream contains a new patented ingredient called Liposhield HEV, which is one of a new generation of SPF ingredients to specifically protect skin against harmful HEVL rays. It also contains prebiotics to help strengthen and maintain the natural skin barrier.
KALME Day Defence (SPF 25) is a daily moisturiser with a mineral sun block designed to defend the skin from redness. It has been dermatologically approved for people with sensitive skin.
Two recent UK trials and more than 12 published research trials have been carried out on cardiospermum due to its calming and restorative effects on inflammatory conditions of the skin.
Dry Eye Gel contains an extract of cardiospermum vine, which is a natural phytosteroid. Dry Eye Gel has been developed as an extremely gentle and light formulation suitable for very sensitive, itchy and dry skin around the eye, a condition that can flare up in hot weather.
The eye gel delivers anti-inflammatory and anti-itching benefits without damaging or irritating the delicate skin around the eye. According to its manufacturers, it is free from parabens, perfumes MI and SLS.
To cope with summer skin breakouts, Silver Serum is a smart 'good flora' facial serum; the anti-bacterial skin treatment contains a special silver ingredient that kills bad bacteria while helping good skin bacteria.
Meanwhile, Oat Soak bath sachets from Skin Shop are a simple, natural way of instantly calming and smoothing dry, itchy and irritated summer skin. As well as oats helping to calm inflammatory summer skin problems including eczema, dermatitis, heat rash and psoriasis, they can also help soothe sunburn.
In related summer news, HayMax allergen barrier balms recently won its 44th award, a 2016 Editor's Choice Award in the Mama & Baby Awards from The Beauty Shortlist.
HayMax was developed by lifetime hayfever sufferer Max Wiseberg to help stop the cause of hayfever symptoms – namely, pollen – from getting into the body. In a 2015 study by allergy charity Allergy UK, 80 per cent of respondents to a survey said that overall HayMax worked for them.
With sun-protection products and related summer skin product ranges being such a high-growth market, we can expect to see this trend for innovative product launches to continue to meet consumer demand in this area.
© 2016 European Supermarket Magazine – your source for the latest retail news. To subscribe to ESM: The European Supermarket Magazine, click here.