Danone Wins Back Russians With Siberian Bog Fruit
Published on May 16 2016 12:24 PM in A-Brands tagged: Trending Posts / Russia / Danone / Siberia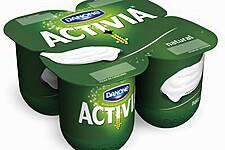 Danone, the world's largest yogurt producer, has turned its Russian business around by finding growth in the most unlikely of places -- Siberian bogs.
Danone has injected cloudberries, amber-colored fruit grown in swamps and bogs, into its Actimel yogurt, while sister brand Activia has adopted a thick, peasant-style variant. That's helped the two flagship brands return to growth in the first quarter. Profitability has also improved as the French company shifted to more innovative products, according to Bernard Ducros, head of the business in Danone's fourth-largest market.
"We reduced our exposure to low value-added products like ultra-pasteurized milk," Ducros said in an interview in Moscow. "That is a low-margin segment for us, and we don't want to buy volumes there via promotions and price reductions."
Danone has faced difficulties in Russia, once its largest market, over the last two years. Volumes fell slightly last year, and while price increases allowed the yogurt maker to eke out single-digit sales growth, it fell short of inflation. The ruble has plunged and inflation spiked due to the low oil price and geopolitical tensions. Brewers such as Carlsberg and Heineken, along with Dove soap maker Unilever, have also grappled with ebbing demand in the market.
"The pressure on consumers will be lower this year," Ducros said. Inflation decelerated to 7.3 percent in March from as much as 16.9 percent last year.
Last year, Danone's Russian unit introduced so-called set yogurts, a type of thick yogurt where fermentation occurs inside the tub. The product boosted sales of Activia products and was successful because it "reminded consumers how Russian peasants used to make traditional dairy products in a pot," according to Ducros.
Also popular among shoppers were plain white yogurt for those looking to eat healthier, and products with local flavors such as Actimel with cloudberry and bilberry, a wild-grown local variety of blueberry.
Russia became the largest market for Danone when the French firm bought local dairy maker Unimilk in 2010. The share of sales coming from Russia slid to 7 percent last year from as much as 11 percent in 2013.
Danone had a 21.8 percent share in the country's dairy market that's worth about $8 billion a year, the company said in a presentation, citing data by Nielsen. Its largest competitor PepsiCo Inc. had 14.2 percent, while retailers' private labels accounted for 6.1 percent of the market.
To reduce currency risks, Danone also convinced some of its suppliers -- fruit-processor Agrana Beteiligungs AG and packaging firms CCL and Constantia -- to set up production in Russia, Ducros said. The company also lends money to Russian farmers to support them amid financial turmoil and secure quality milk supply for its plants, he said.
News by Bloomberg, edited by ESM. To subscribe to ESM: The European Supermarket Magazine, click here.