Alcohol Ban Another Drain On India's Weak State Finances
Published on Apr 19 2017 12:04 PM in Drinks tagged: India / Alcohol / Ban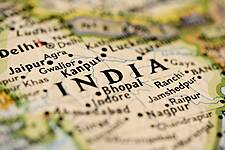 India's widening alcohol prohibition is threatening to gouge a hole in already stretched state finances.
At least four states have announced plans to bar liquor sales, adding to five that are already dry and a Supreme Court ruling that banned drink sales near highways from April 1. The prohibition is set to cut a revenue stream that contributes at least 25 percent to state coffers and complicate a federal government push for fiscal discipline as it seeks to lure foreign investment to Asia's third-largest economy.
"The ban on liquor comes at a bad time for states which are grappling with falling revenues and rising spending," said Indranil Pan, chief economist at Mumbai-based IDFC Bank. "It will have a negative impact on deficits and borrowing costs."
Swelling Deficit
Banning alcohol is increasingly seen as a vote-getter in a country where whiskey sales are the highest in the world, drunk driving is a leading cause of road accidents and binge drinking is a problem. But the moves are running up against surging state deficits and federal government aspirations to improve the country's debt ratings.
Net borrowing by states will rise rise 12 percent to 3.8 trillion rupees ($59 billion) in the current financial year, after surging 30 percent in the year to March 2017, according to estimates from ICRA Ltd., the Indian arm of rating agency Moody's Investors Service. HSBC Holdings Plc forecasts the combined deficits of Indian states increased to 2.8 percent of gross domestic product in the year that ended in March from 2 percent during 2011 to 2014.
Sales Drop
That's in contrast to the federal government which plans to trim its deficit to 3 percent of GDP by March 2019 from 3.2 percent in 2016-2017. India, which struggles with a narrow tax base, is rated just above "junk," forcing the government to borrow in the domestic market to plug its budget gap.
India's 29 states budgeted revenues worth 20 trillion rupees in 2015-16, figures from the Reserve Bank of India show. With alcohol accounting for at least 25 percent of state revenues, according to brokerage Motilal Oswal Securities Ltd., a drop would mean a 5 trillion rupee hit. Alcohol can reach as much as 40 percent of tax revenue in some states, the Mumbai-based firm said in an April 12 note.
The nation's liquor companies are bracing for a drop in sales of as much 8 percent this year from the highway ban alone, Deepak Roy, executive vice chairman of Allied Blenders and Distillers Ltd. said in an interview earlier this month.
Plugging Holes
Provinces like Madhya Pradesh and Chhattisgarh which are ruled by the Prime Minister Narendra Modi's pro-Hindu Bharatiya Janata Party, and Daman are poised to ban alcohol sales. The southern state of Kerala, which is a huge alcohol-consuming state, is also reviewing whether to impose a ban and join states like Bihar, Nagaland, Manipur and Gujarat.
Bihar, where a third of its population live under the poverty line, is feeling the pinch.
"The state has directly lost 35 billion rupees in terms of taxes directly owing to liquor prohibition," said Bihar Finance Minister Abdul Bari Siddiqui said in a phone interview last week. Bihar imposed the ban in early 2016; Siddiqui said the state was trying to make up for the loss through other revenue streams.
Brokerage firm Religare Securities Ltd. estimates Madhya Pradesh, which is a bigger state than Bihar, could lose as much as 75 billion rupees in annual revenues through the proposed ban.
The hit to revenues has seen some states roll back liquor bans in the past, but the prohibition threat is becoming more real this time around, said S.P. Tulsian, an independent financial analyst based in Mumbai. "States are trying to fight out a large social menace," he added.
Binge Drinking
While per-capita consumption of alcohol in India is among the lowest in the world, hazardous drinking -- binging and solitary consumption to the point of intoxication -- has become a hallmark and is practiced by more than half of Indian drinkers, according to a 2013 report by New Delhi-based Public Health Foundation of India.
So in a country where drinking is discouraged in the constitution and large swathes of society frowns upon alcohol consumption, fiscal prudence might be pushed to the background by politicians eyeing votes.
Ultimately, every state will have to "balance fiscal targets and constraints with social goals," Aditi Nayar, an economist at ICRA, said.
News by Bloomberg, edited by ESM. Click subscribe to sign up to ESM: The European Supermarket Magazine.