Brexit Bulletin: Turkey for Brexit?
Published on Dec 19 2016 9:00 AM in Features tagged: Trending Posts / UK / Turkey / Brexit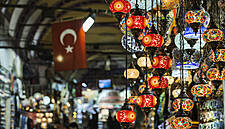 It is Christmas week so of course we are all surrounded by talk of turkey.
But it's Turkey the country that is occupying the minds of British government officials as they cast their eyes to leaving the European Union.
In his first major interview since taking office, Trade Secretary Liam Fox on Sunday echoed Brexit negotiator David Davis by floating Turkey's relationship with the European Union as a potential model for the UK.
In theory that would mean keeping some parts of the UK inside the EU customs union, members of which impose no tariffs on each other and impose the same duties on other countries.
"We need to look at all the options," Fox told the BBC's Andrew Marr. "It's not binary. I hear people talking about hard Brexit and soft Brexit as though it's a boiled egg we're talking about. It's a little more complex."
Fox said Turkey "is in part of the customs union, but not other parts," adding: "What we need to do before we make final decisions is to look at the costs."
What may make the Turkish model appealing to the UK is it doesn't have fees and means limited bureaucratic hurdles at borders. Most importantly, Turkey's arrangement doesn't require free movement of EU people, something British government officials want to end as they strive to gain control of immigration.
However, the Turkey deal doesn't include agriculture or services, which would be important for Britain if Brexit impacts its crucial financial sector. It also leaves Turkey with no say on the tariffs imposed on non-EU countries by the EU, meaning it cannot shape any deals to its interest; nor does it get automatic tariff-free access to the markets that EU members do.
"Given the political difficulties, custom union membership seems an unlikely outcome in the long term," John Springford, director of research at the Centre for European Reform, said in a report last week. "But it would be a sensible arrangement for a transitional deal."
Fox hinted he may prefer a cleaner break with the EU to allow him greater freedom to strike trade pacts with the rest of the world.
Seoul Trader
One sign that the UK may be content with full independence came with Sunday's announcement that a group of ministers from Britain and South Korea will meet up to four times a year to discuss "future, ambitious trade opportunities" for a post-Brexit landscape.
Trade and investment between the UK and South Korea is worth about £11 billion, according to British estimates. Similar dialogues are already opening up with Australia, China, the Gulf Cooperation Council, India, New Zealand and Norway.
The UK government said in its statement that South Korea is an especially promising market for luxury brands such as Burberry, which has 70 stores in the country, and high-end automakers Jaguar Land Rover and Bentley. Other sectors with strong potential include renewable energy and nuclear decommissioning.
Scotland the Free?
Scotland will hold a new referendum on separation from the UK unless it can stay in the EU single market, First Minister Nicola Sturgeon will warn this week.
Sturgeon will detail proposals for a new arrangement with the UK to enable her country to remain inside the single market area after Brexit, even if the London government pulls England out. Voters in Scotland chose to stay in the EU in June's referendum and now face being pulled out against their wishes by votes cast in England, she wrote in the Financial Times on Sunday.
"It remains my view, and that of the government I lead, that the best option for Scotland remains full membership of the EU as an independent member state... Independence must remain an option for safeguarding our European status, if it becomes clear that our interests cannot be protected in any other way."
Scots voted against independence in a referendum two years, ago but Sturgeon sees Brexit as providing another opportunity. The most tread carefully though as polls still question the appetite for a break and another defeat for the nationalists would likely put the issue to bed.
News by Bloomberg, edited by ESM. To subscribe to ESM: The European Supermarket Magazine, click here.