Coming Up In ESM Issue 6 2017
Published on Jul 28 2017 4:32 PM in Features tagged: ESM / ESM: European Supermarket Magazine / World Of Packaging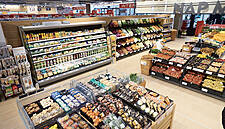 Copy Deadline: 13 November
Press Deadline: 16 November
Our final edition of 2017 sees ESM: European Supermarket Magazine hit a milestone, as we celebrate our 50th issue. With this in mind, we will recap some of the biggest stories from over the past eight years, as well as look at how the trends we reported on have come to influence the European grocery trade. As well as that, we 'lift the lid' on the always-dynamic World of Packaging, explore the Fresh Produce and Confectionery sectors, travel to Minsk to meet one of the CEE region's up and coming retail stars, and a lot more besides.
Fruit & Vegetables Europe 2018 - Special Report
While fresh produce is such a core part of the retail offering, it relies on a consistent, reliable supply chain, in-store innovation, new product development, and above all else, ensuring a product is as fresh as possible for consumers. In this major report, ESM speaks to some of Europe's leading fresh produce suppliers about the growth opportunities in the sector, as well as retailers about what they see as essential to the development of a winning fresh produce offering. In addition, we will look at the logistics, transport and storage involved in maintaining a successful fresh product operation, and on the back of the recent filpronil scare, ESM examines the importance of quality sourcing in the Eggs category. Incorporates market insight from IRI. Further information is available here.
The World Of Packaging
Following on from last year's successful The World of Packaging 2017 report, ESM is proud to present The World of Packaging 2018, the most comprehensive overview of the latest trends and innovations in the global packaging landscape. As well as featuring interviews with the leading packaging companies on the current trends and developments in this dynamic sector, The World of Packaging 2018, will also feature exclusive reports from Euromonitor International and Rabobank – an essential read as we look forward to a new year.
Refrigeration
With changes to legislation governing the use of certain refrigerant gases on the horizon, retailers across Europe are investing in their commercial refrigeration systems to ensure they meet the full legislative criteria - investment that is also providing benefits in terms of modernisation and cost-saving. In addition, such is the level of new product development in the sector that retailers are increasingly utilising refrigeration as part of the design process; enhancing the aesthetic appeal of food-to-go, fresh, or frozen aisles. In this special report, ESM examines the areas in which the main investment is being undertaken, and speaks to the suppliers leading the innovation charge in this dynamic sector.
In-Store Lighting
The right lighting can 'make or break' a supermarket in terms of creating a lasting impression for shoppers. In this special report, ESM examines the areas in which lighting can make a difference for your store, and speaks to the leading suppliers behind some of the 'brightest' solutions. We also look at retailers across Europe that have sought to use lighting creatively in creating a pleasant shopping environment.
Confectionery
According to recent data from Research & Markets, the global confectionery industry is set to grow at a CAGR of around 4.1% over the next ten years, to be worth around €240 billion. In this special report, ESM examines the growth of the European confectionery industry, and speaks to both suppliers and retailers about the key trends influencing the market.
Household Cleaning & Home Care
The Household Cleaning and Home Care sectors posted a strong year of growth in 2016, rising 5% to be valued at $143 billion, according to Euromonitor. With increased hygiene awareness in both major and emerging markets, demand for more convenient options, increased sophistication in both the branded and private label sectors, and a move towards added-value cleaning products, such as products built around fragrance and 'sensory' notes, this is a sector that is primed for growth. But what are the factors that will influence its growth, and how are suppliers in the category tapping into consumer demand for value, quality and environmental sustainability?
Personal Care
The Personal Care segment is one of the most dynamic in the grocery landscape. Incorporating areas such as Skin Care Oral Care & Hygiene, Bath & Shower, Skin Care, Deodorants and Hair Care; it's a category that is historically female-driven, however growing interest in male grooming (a market that was valued at close to €19 billion last year) is offering new horizons in an already-competitive category. ESM reports on the retail challenges and opportunities facing this category.
Plus Much Much More, including
We travel to Minsk, to meet Andrei Zubkou, the chief executive of Euroopt, the largest food retailer in Belarus, which operates 459 stores across the country and generated net sales of BYN 3.64 billion last year (€1.58 billion). Currently engaged in a store modernisation programme, as well as the roll out of one of the largest food e-commerce platforms in Europe, Euroopt has its sights on significant growth in the years to come.
Spanish retailer DIA has just announced sales of €7.734 billion for the first nine months of 2017, and is close to completing a major renovation programme of more than 600 of its outlets, as well as exploring new online opportunities. ESM speaks to Amando Sánchez Falcón, the group's chief corporate officer about how DIA is positioning itself for the future.
Following on from this, ESM, in conjunction with Planet Retail, looks at how modern food retailing is making its mark in Central and Eastern Europe, as major players move away from big-box to smaller formats, and embrace digitisation.
Following a lengthy application and judging process, the winners of the inaugural European Private Label Awards will be announced in the first issue of 2018. Ahead of that, we review the finalists for this year's competition, across 11 highly-competitive categories.
We report from Shoptalk Europe, a first-of-its-kind event taking place in Copenhagen, which will explore how the modern retail environment is changing, and what retailers and suppliers can do to position themselves for future success.
ESM's regular Europe's Newsmakers section profiles the men and women making the news within the grocery retail sector over the most recent quarter.
Subscribe now to take full advantage of this exclusive content.
Advertising
For further details on any of these features, contact the ESM sales team at:
Niall Doyle   [email protected]
Des Ball   [email protected]
Marek Fialek   [email protected]
Rocio Palma Perez   [email protected]
Neill Burke  [email protected]
Alan O'Brien  [email protected]
Click subscribe to sign up to ESM: The European Supermarket Magazine. Content subject to change. For details of our sales packages, click advertise.