Coming Up In Issue 2 2019
Published on Feb 6 2019 12:03 PM in Features tagged: ESM: European Supermarket Magazine / ESM Issue 2 2019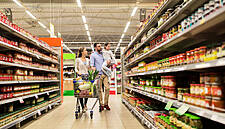 Copy Deadline: 7 March 2019
Goes to Press: 12 March 2019
ESM: European Supermarket Magazine's second issue of 2019 sees the return of the Europe's Fastest Growing Product Categories report, produced in association with IRI, which monitors the grocery categories gaining the most traction in key European markets. We also examine the dynamic Seafood and Free From sectors, and explore how Blockchain is reshaping retailer supply chains.
Europe's Fastest Growing Product Categories, In Association With IRI
Following its launch last year, ESM once again ties up with IRI to examine the categories that are showing the most growth in several key European markets, France, Italy, Germany, the UK, the Netherlands and Spain. Our annual Europe's Fastest Growing Product Categories report will explore the trends that are driving category sales growth, how consumer purchasing behaviour is being influenced by emerging trends, and in what categories brands are seeing off the challenge of private label.
Seafood
Aquaculture is currently the world's fastest-growing protein producing industry – the sector had a value of more than €200 billion in 2016, close to double that at the start of the decade. This investment is a timely one, given that the World Bank estimates that production will need to increase by at least two-fold to meet global demand by 2030. At retail level, Seafood is also big business, with improvements in supply chain efficiency and sourcing capabilities offering consumers a heretofore unseen level of choice. ESM reports on this dynamic sector.
Understanding Blockchain
Blockchain is revolutionising retailer and food supply chains, offering greater transparency at all stages of the supply chain, and enabling businesses to drive greater efficiencies and optimise costs. With Albert Heijn, Carrefour, Auchan and Walmart among those that have already adopted blockchain practices, this is a technology to watch. ESM reports on a growing industry.
Free From Foods
Free-From Food is one of the fastest-growing segments within the overall Health & Wellness category, with a global value of $33 billion in 2016, according to Euromonitor. While Western Europe and North America account for much of this growth, emerging economies are also showing positive signs, with the segment gaining traction among those with a genuine food intolerance, as well as those looking to eat more healthily. ESM examines the future growth opportunities in this dynamic category, while also looking forward to the Free From Functional Food Expo, which takes place at the end of May in Barcelona.
Store Design
Modern store design needs to take into account the needs of a wide variety of consumers, while also exploring ways to build a customer experience. In addition, smaller outlets need to ensure ease of shop in a confined space, while larger store formats such as hypermarkets, are increasingly looking to repurpose space to maximum effect. ESM explores the importance of Store Design to the modern retail environment.
Pet Food
Pet Food is a category that has well and truly entered a period of maturity, with pet owners increasingly selective abut what they feed their pets. Across Europe, premium private label ranges are gaining prominence, as is the pet treats market, while increased segmentation means that pet owners are now able to fine tune their purchases in keeping with the breed, age and lifestyle of their pets. Shoppers are also demanding products with added-value components, such as vitamins and minerals, as well as a heightened degree of provenance. ESM looks at the core trends driving this dynamic category.
Plus much much more, including
We look forward to Tuttofood 2019, taking place at Fiera Milano from 6 to 9 May, which looks set to welcome more than 1,100 companies from across the global agro-food industry.
We chat to Geir Olav Opheim, the chief executive of Iceland Mat, the Norwegian arm of the frozen foods retailer that has expansion in its sights.
ESM's Private Label Showcase highlights the latest store brand product launches and innovations from across the European grocery landscape.
Our Europe's Newsmakers section profiles the men and women making the news within the grocery retail sector over the most recent quarter.
Plus interviews with leading retail executives, industry reports, news, opinion and analysis.
Subscribe now to take full advantage of this exclusive content.
Advertising
For further details on any of these features, contact the ESM sales team at:
Niall Doyle   [email protected]
Des Ball   [email protected]
Marek Fialek   [email protected]
Rocio Palma Perez   [email protected] 
Neill Burke  [email protected]
Alan O'Brien  [email protected]
Adrian Murphy  [email protected]
Phil Lee  [email protected]
Click subscribe to sign up to ESM: The European Supermarket Magazine. Content subject to change. For details of our sales packages, click advertise.