A Cracking Christmas Won't Stop 2017's Brexit Retail Turkey: Gadfly
Published on Dec 5 2016 11:15 AM in Features tagged: Trending Posts / Christmas / Brexit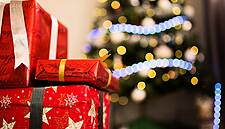 It's the typical run-up to Christmas. The tree's up, the novelty reindeer sweater's come out for its annual airing and retailers are fretting about the amount of money that will flow into their shops.
Long-suffering store chains might not have as much to worry about as they think -- for now at least. Brits are set to cast aside their worries over Brexit and spoil themselves this Christmas. But it may be their last hurrah.
When times are tough, consumers will still celebrate over the holidays -- even if it's with a cut-price Christmas pudding from Aldi instead of a luxury confection from Waitrose.
Despite the global uncertainty, this year-end shopping splurge could still be a decent one for store groups.
Black Friday seems to have gone with a bang: John Lewis Plc said its department stores notched up record sales of almost £200 million in the week to 26 November, including Black Friday, its biggest-ever single day.
Leaving aside the impact on profit -- Gadfly has already argued that all that discounting is toxic for retailers' earnings -- Britons' willingness to spend should bode well for sales in the crucial final three months of the year.
Brexit is still just a worry, and at present, nothing's really changed yet for the consumer: interest rates are low, and price increases from weaker sterling have yet to hit the shelves.
And the weather is perfect, too. Cold bright days are just right for hitting the shops, and also for giving fashion retailers a lift from sales of coats and sweaters.
Richard Hyman, an independent retail analyst, forecasts a 2% increase in spending at non-food and online-only retailers in December this year, compared with a 2.2% fall last year -- the only decline since the Christmas just after the collapse of Lehman Brothers in 2008.
But there are some signs that the end of these golden shopping days is nigh. Already, food prices are not falling as fast as they were, and that's starting to eat into consumer spending power.
That trend is set to continue, and food and clothing prices may rise by up to 5% in the next six months.
Shoppers seem to be seeing this coming. In fact, with John Roberts, chief executive of AO World Plc, warning that prices for consumer electronics are likely to increase after Christmas, the current retail frenzy might just partly be a case of bringing forward purchases from next year.
For the first time since the referendum, rising prices are on consumers' minds, according to Haitong Securities Co.'s monthly Spend Trend report, which surveyed almost 2,000 consumers. Some 41% of respondents said in October that they were worried about price increases, compared with 32% in September. Older shoppers were particularly concerned.
And Britons are feeling less confident in other areas too. Both Haitong's reading of the outlook for their financial situation over the next six months, and GfK's measure of consumer confidence, have deteriorated recently.
Once the December frenzy peters out, spending typically dips -- in fact, combined sales for January and February are normally not far off the total for all of December. This year's slump might be worse than usual.
And it might not just be store chains that suffer. Much of the extra cash that has come from cheaper food and fuel over the past two years has found its way into meals out and holidays. They might also suffer if incomes narrow next year.
So when the tinsel comes down, and the credit card bills come in, consumer-facing businesses might have much less to celebrate.
This column does not necessarily reflect the opinion of Bloomberg LP and its owners.
News by Bloomberg, edited by ESM. To subscribe to ESM: The European Supermarket Magazine, click here.