Every Letter Helps: Tesco Tries Charming Shoppers It Angered
Published on May 27 2016 12:41 PM in Features tagged: Featured Post / UK / Tesco / Matt Davies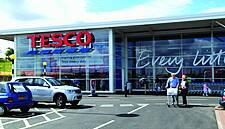 A weekly letter from Tesco Plc's U.K. chief executive officer, posted in break rooms of the retailer's 3,500 domestic stores, praises employees who go out of their way for customers. Recent examples include everything from fixing a motorist's flat tire to collecting corporate memorabilia for a fan.
During its rise to the top of British grocery retailing, Tesco made plenty of enemies -- investors who lost out, suppliers that got squeezed, small shops that accused it of bullying and frugal shoppers it angered by raising prices. Winning them back is Tesco U.K. CEO Matt Davies's task, and it's one of the toughest jobs in retail.
"Internally, within the business, I see a warmth that's not immediately apparent from the outside," Davies said in an interview. "Part of our challenge is, how do we demonstrate how much we really care to the nation?"
The charm offensive is part of a broader campaign by Davies' boss, CEO Dave Lewis, to improve shoppers' perception of Tesco's service, prices, product range and availability. Executives say they're making progress, but they're engineering a turnaround in a climate that Lewis calls the most competitive grocery market the U.K. has seen. The collapse of department-store chain BHS in April highlighted the broader challenges facing the country's retailers.
After two decades of growth that turned Tesco into the world's second-largest retailer behind Wal-Mart Stores Inc., the company is reeling from the missteps that followed. One major miscalculation: Tesco, whose advertising slogan is "every little helps," got greedy.
In late 2012, Tesco raised the prices of items in its discount Everyday Value range. Frozen sausages went up to 1.50 ($2.20) from 1 pound and ketchup increased to 30 pence from 16 pence, according to price comparison website mysupermarket.co.uk. Customers defected to discounters Aldi Stores Ltd. and Lidl Ltd.
Supplier Deals
Suppliers, meanwhile, complained about Tesco's strong-arm negotiating tactics. Tesco says that by cultivating fewer, more strategic relationships it has been able to cut retail prices of fresh fruit, vegetables and meat, even while giving suppliers better deals.
Tesco recognizes that "just coming up and asking for better prices every year won't do anymore," said James Truscott, managing director at Branston Ltd., a potato producer that's supplied Tesco for 25 years.
Delayed payments to suppliers are the focus of an accounting scandal that came to light in 2014. An independent inquiry found that the company overstated profit by 326 million pounds over several years. At least seven senior Tesco managers subsequently left the company, which says it's cooperating with an investigation by the U.K.'s Serious Fraud Office.
Tesco fell quickly from the pinnacle of the retail world. The value of Tesco's brand plummeted 37 percent, to $9.4 billion, in the year through May 2015, according to advertising company WPP Plc's BrandZ ranking. Among retailers worldwide, Tesco dropped to 12th place from sixth a year earlier.
Tesco's market value has fallen by more than 60 percent since 2010, and its credit rating has been cut to junk. Investors are skeptical about its turnaround: the shares have fallen 22 percent over the past year, compared with gains of 11 percent and 4 percent, respectively, for Tesco's main publicly traded peers, Wm Morrison Supermarkets Plc and J Sainsbury Plc.
"Tesco are well aware they lost people's trust, and for good reason," said Laura Foll, a fund manager at Henderson Global Investors, which owns Tesco shares. "They put their prices up too much and lost their core customers. Now they have to win them back."
Lewis, who joined the company a month before the accounting problems surfaced, hired Davies last year to try to turn around the U.K. operations, whose stores range from convenience outlets to suburban "hypermarkets" where customers can get their cars washed after finishing their grocery shopping.
Wal-Mart Tactic
Davies is trying to reconnect with local communities to counter the view of the faceless shopping behemoth that marginalizes local retailers. When a rainstorm wrecked thousands of homes in England last December, Tesco donated food and toiletries and erected a temporary store. The tactic was borrowed from the playbook of Wal-Mart, which doled out $36 million in aid to victims of Hurricane Katrina in 2005, helping it to mitigate criticism on environmental and labor issues.
The Tesco U.K. chief, who is 45, joined Tesco about a year ago from auto-parts and bicycle retailer Halfords Group Plc, where he was CEO. He built his reputation as CEO of Pets at Home Group Plc, a pet-supplies retailer, where he cut annual staff turnover to 25 percent from 77 percent.
In stores, Davies is encouraging workers to strike up conversations with customers about shared interests and experiences, such as cooking and children. Finding employees who are able to engage is one thing he's good at, said Catriona Marshall, CEO of retailer Hobbycraft Group Ltd., who worked with Davies at Pets at Home.
"When Matt interviewed somebody for a job, one of his criteria was, 'Could I spend three hours in a car with this person?'" she said.
News by Bloomberg, edited by ESM. To subscribe to ESM: The European Supermarket Magazine, click here.