Morrison's Discount In Buyout Land May Be Winding Down: Gadfly
Published on May 5 2016 5:30 PM in Features tagged: UK / Morrisons / Supermarkets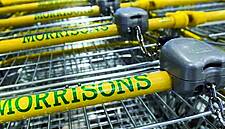 British supermarkets are full of special offers, but there's one discount at Wm Morrison that's coming to an end.
As Gadfly has argued, Morrison is ripe for a private equity buy-out, perhaps backed by the current -- and well regarded -- management team. But Thursday's earnings report suggest time is running out on this deal.
The U.K.'s fourth-biggest supermarket chain by market share on Thursday reported its second consecutive quarter of sales growth from stores open at least a year, after 15 quarters of decline. Its move to compete with German no-frills supermarkets by cutting prices, along with work to improve product lines, helped it increase same store sales excluding fuel by 0.7 percent in the 13 weeks to May 1.
Some good old fashioned shop-keeping from chief executive David Potts, who started his retail career on the shop floor of Tesco at age 16, looks to be doing the trick. He's also cut a thoroughly modern deal to supply products to Amazon's foray into the U.K. grocery delivery market, with the first orders already shipped.
Potts acknowledges that there is much more to do. Meanwhile, conditions are getting no easier in the supermarket sector.
Morrison echoed Sainsbury in saying that it expected food price deflation to continue. This is due in part to Morrison's pledge to continue to be more competitive on price.
And while sales growth at discounters Aldi and Lidl may be slowing slightly, according to recent industry data, they continue to open stores apace, which should underpin their continued sales expansion.
The latest picture has been flattered to some extent by a dire performance a year ago, when like-for-like sales fell by 2.9 percent. Even so, there is no doubt that Morrison is stabilizing. It is sticking with the consensus forecast of full-year pre-tax profit excluding exceptional items of 318 million pounds ($461 million), and expects net debt to fall from 1.75 billion pounds at January 31 to between 1.4 and 1.5 billion pounds at the end of the current financial year.
Meanwhile, Morrison remains cash generative, with free cash flow of just under 300 million pounds forecast for the full year, according to Bloomberg data.
As Morrison's earnings stabilize, that only strengthens the case for a deal. The trouble is, the value of Morrison has risen along with its recovery prospects.
Since the start of this year, shares have gained more than 30 percent, compared with a 5 percent increase in the FTSE All-Share Food and Drug Retailers Index. They trade on a 17 percent premium to the Bloomberg Intelligence European food retailers peer group.
The turnaround looks already priced in, given that Potts' strategy is still at an early stage.
It also makes for a pricier private equity purchase. For a buy-out firm eyeing Morrison, the supermarket might not be the bargain it once was -- though is still worth a look.
This column does not necessarily reflect the opinion of Bloomberg LP and its owners.
News by Bloomberg, edited by ESM. To subscribe to ESM: The European Supermarket Magazine, click here.