M&S Blows Its Chance To Face Up To Sales-Slump Reality: Gadfly
Published on Nov 8 2016 4:40 PM in Retail tagged: Trending Posts / M&S / Marks & Spencer / Steve Rowe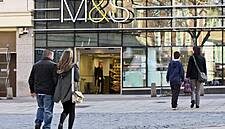 These are not just store closures, these are M&S store closures.
Marks & Spencer Group Plc has finally admitted that with a slump in clothing and home furnishing sales, it needs to shutter shops.
But the cuts unveiled by new Chief Executive Officer Steve Rowe are too late, and probably too little.
He had no choice but to scale back the domestic portfolio. Even after his predecessor Marc Bolland spent about 3 billion pounds ($3.7 billion) during his six-year tenure investing in the company -- including a portion revamping the store estate -- same-store sales of clothing and home furnishings have fallen every quarter except for one over the last five years. That includes Tuesday's report of a 2.9 percent drop in the second quarter.
The 30 shops that M&S is closing represent around 10 percent of M&S's full-line stores -- those that sell both clothing and food. Plans to convert some others to just selling food removes clothing and home furnishings from about 60 locations in total.
The company's recent performance might suggest these plans are on the right track. Online sales account for about 17 percent of clothing and home furnishings revenue, so comparing that to actual sales would imply about 50 closures are needed to match store locations with actual revenues.
But even this may still not be enough, given the scale of the decline in M&S's sales and market share, along with a difficult outlook. The weaker pound and Brexit-induced uncertainty are substantial headwinds for all British retailers, and the potential for a further deterioration in sales means the store chain may still be too bloated.
Rowe had one opportunity to draw a line under M&S's troubles, and he's missed it.
Even so, his plans won't come cheap -- he'll have to spend about 350 million pounds over the next five years to achieve them, and about half of that will be in cash.
The plan to dedicate more floorspace to food is also not straightforward. Same-store food sales fell 0.9 percent in the second quarter, raising questions about how sustainable a big expansion in food space is, particularly if consumer spending power is squeezed next year.
Although the profitability of clothing came under pressure in the first half, it remains more lucrative than food. With food taking up more space, that means less profit.
Still, plans to exit nine overseas markets altogether, plus a partial withdrawal from France, are radical -- and sensible. The store that Bolland opened on the Champs Elysees in Paris always looked like folly, given the expensive location and M&S's mid-market rather than premium positioning. A retreat from China is long overdue.
Seasoned investors will remember a series of recovery plans from M&S chief executives over the years -- not least Bolland's six years ago, when he pledged to expand U.K. sales and transform the company into an international, multi-channel retailer. Tuesday's announcement shows how well that worked out. Investors seem to have caught on, as shares fell about 1.8 percent.
Rowe has at least grasped the nettle. But there is little in the latest strategic blueprint from M&S to suggest this time will be any different.
This column does not necessarily reflect the opinion of Bloomberg LP and its owners.
News by Bloomberg, edited by ESM. To subscribe to ESM: The European Supermarket Magazine, click here.