Nualight: The Art Of Lighting Up The Display Case
Published on Nov 29 2016 4:10 PM in Features tagged: LED / Nualight / Lighting / Orion / Perfino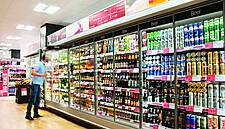 Nualight, specialists in LED refrigeration lighting, can help ensure your store environment is a pleasure to shop.
A popular corporate philosophy and mantra often indoctrinated into new starters and emblazoned on corporate literature is 'the customer is king'. However, nowhere is it so passionately applied as it is within retail.
Customer shopping habits can often dictate everything from the signs in the car park to the in-store layout and produce offered. An often overlooked aspect that can help with all these factors is lighting and in particular, display lighting.
Creating An Impact
Once a shopper is in store, how do you then ensure your produce is showcased to the best advantage? From general shelving to refrigeration and freezer display cases, lighting can have a huge impact on the overall feel of an environment and influence the buying experience.
Nualight, a specialist in refrigeration display lighting and a pioneer of LED, has helped many of the world's leading retailers and refrigeration case manufacturers, build or upgrade their cases with efficient, expertly-designed, LED lighting solutions. In particular, the company understands the balance that must be achieved.
There are several factors to be considered when selecting lighting for refrigeration display cases, and over the years, Nualight has advised on many fluorescent to LED transitions. Nualight is able to provide solutions from a comprehensive, market-leading, competitive and patented portfolio.
The portfolio has tiered family ranges to suit all budgets and requirements, from Arctic – a family of LED tubes suitable for retrofit – to the highly- successful Orion and established Perfino ranges. Perfino has outlasted the competition and remains the industry benchmark as the refrigeration display case range that can lift and enhance a wider range of colours across the spectrum, creating comparably more vibrant and enticing displays.
Lighting As An Art
Nualight believes that display cases can be a place of colour and contrast and a planned and controlled use of the right light in the space can enhance the customer's experience, encouraging them to explore and discover the produce in new and exciting ways.
The energy savings with LED are outstanding, e.g. Orion - a range of high performing horizontal and vertical LED solutions with industry leading efficacies of 125lm/W, which when swapped with fluorescent can achieve up to 90% energy savings, whilst directing the light exactly where it is needed, thanks to its specially designed optic. Orion is a good example of how it is possible to make energy savings and simultaneously improve the customer's buying experience with LED.
Nualight has found that customers are rarely able to pinpoint when the lighting has been changed. They will pause, feel that something is different; they will notice things they had not noticed before; they will spend more time perusing and exploring in-store and their mood and behaviour will be more open to the retail or brand experience.
In a world where the 'customer is king', the balancing act of providing a safe, welcoming and bright atmosphere whilst managing your financial and environmental objectives can be a lot easier when you can make informed decisions about your lighting.

For more information, contact Nualight at [email protected] or www.nualight.com
© 2016 European Supermarket Magazine – your source for the latest retail news. To subscribe to ESM: The European Supermarket Magazine, click here.