Reaching The Private Brand Summit
Published on Jul 26 2018 1:30 PM in Private Label tagged: Trending Posts / private label / Daymon / Reaching the Private Brand Summit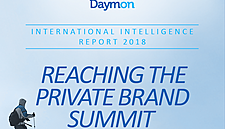 A new report by Daymon serves as a valuable roadmap for retailers seeking to drive private brand growth. Vasco Brinca, President of International, Daymon, reports.
In the dynamic world of retail, there's one thing we're confident won't be changing any time soon: Private Brands are a force to be reckoned with. In 2016, sales of Private Brands reached $800 billion and show no signs of slowing down. In fact, quite the opposite is true.
Across the globe, the majority of consumers surveyed by Daymon say they buy more Private Brands today compared to two years ago.
That goes for markets where Private Brand is already well-developed, such as the United Kingdom, as well as regions where market share is still small, such as China and Brazil (where 81% and 64% of consumers, respectively, now buy more Private Brand).
Major Study
The top reasons consumers give for their increased consumption of Private Brand include: better value for money, improved quality, and a better fit to their lifestyle. In fact, on average, more than eight out of 10 shoppers believe Private Brand quality is now at least as good as that of National Brands.
These are just a few of the key results we discovered in our 2018 Daymon International Private Brand Consumer Survey.
Along with our team's careful analysis of 65 markets across different regions and retail maturity levels, they provide the foundation for our forecast that Private Brand will continue to grow globally in all stages – both those with high potential due to current low market share, as well as those where Private Brand is already well-developed.
Climbing The Private Brand Mountain
The promise of growth is certainly welcome news. But what retailers and suppliers really want to know is – how do we make that growth happen? To help answer this, Daymon recently released The International Intelligence Report 2018 – Reaching the Private Brand Summit.
The report (available at Daymon.com) acts as a guide to help retailers and suppliers understand where their markets currently stand and how they can design winning initiatives to fulfill Private Brand market share potential.
It likens the evolution of Private Brand to a challenging mountain climb.
Along the path to the summit, we have identified five stages that Private Brand generally passes through across different geographies and retail dynamics.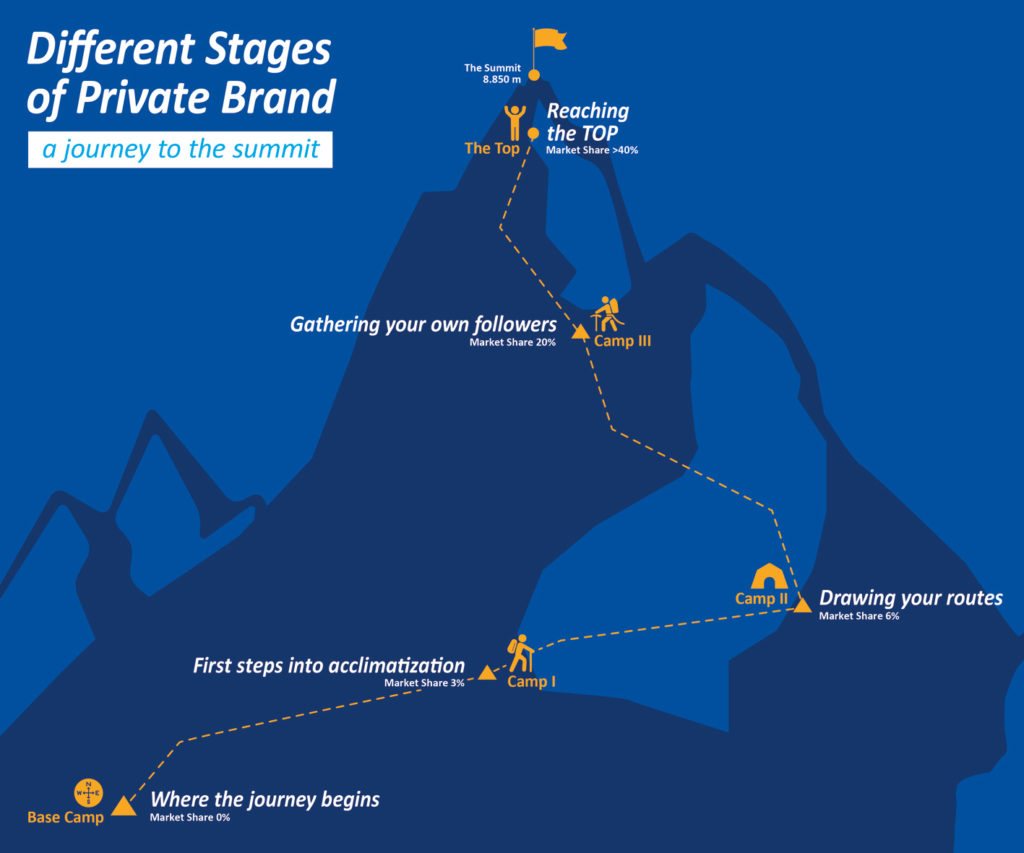 Base Camp
The first stage is what we call 'Base Camp'. At the bottom of the mountain, countries in this segment have an average Private Brand market share of just 1%. Many are emerging economies in the Middle East and Asia, where it is risky for lower income shoppers with little disposable income to try relatively unknown Private Brands.
As such, Private Brand in this stage generally follows the copycat approach, offering 'me-too' products in low-risk categories at 20-30% less than the national leaders. Despite the low market penetration, this segment represents a significant opportunity, as it accounts for 21% of the total grocery market overall. Countries at Base Camp include China, Vietnam, Pakistan and the United Arab Emirates.
Camp I: First Steps Into Acclimatisation
The next level up is Camp I. Here, Private Brand has started to make some headway in the market, with an average penetration of 4%. Many retailers at this stage begin to make more investments in their Private Brand programs and often offer a three-tiered 'Good, Better, Best' model.
This strategy allows retailers to push on both price and quality to different consumers. Seeing the potential of Private Brand, some B Brand suppliers begin to transfer over, which allows for even more growth. Countries currently at this stage include India, Brazil and South Korea.
Camp II: Drawing Your Routes
The journey to Camp II is both a climb and a leap – in thinking, that is. At this stage, Private Brand already has a strong presence in some categories (with an average penetration of 11%), and consumers are coming to trust it.
In turn, retailers move beyond thinking of Private Brands solely as lower-cost copycats and begin to work them as authentic brands that have the ability to help them stand out from the competition.
Some suppliers also become fully dedicated to Private Brand. Countries at this stage include Turkey, Italy, South Africa, Singapore and Japan.
Camp III: Gathering Your Own Followers
By the time we reach Camp III, market share averages around 27%, with potential up to 40%. Private Brand is growing fast and is represented in most categories. In these mainly developed countries, consumer loyalty is shifting from brands to retailers, which creates the ideal platform for Private Brand to drive differentiation and profitability, and to reinforce brand image.
Retailers often begin to deploy sub-brands to address niche markets, and high-quality suppliers step in to meet their demanding specifications. Countries currently at this stage include Australia, Germany, France, Portugal, Spain and the United States.
Reaching The Top
When markets reach 'The Top', Private Brand accounts for more than 40% of market share. In these highly-developed and concentrated retail markets, consumers are very open to Private Brand and proud to present Private Brand products to guests and friends.
However, due to their ubiquitous nature, Private Brands must become more specialised. Retailers and suppliers often focus on exclusive and venture brands, as well as innovation in the limited space left for growth.
Switzerland and the UK are the only two countries currently at The Top. As we have seen in these markets, this is the point when Private Brand growth begins to slow.
National Brands have developed the most advanced defence mechanisms against Private Brands at this stage, so the battle is much harder. But that doesn't mean the journey is over. As long as there are National Brand products on store shelves, there's room for Private Brand to grow. Because of this, no one has yet truly reached 'the Private Brand Summit'.
Widespread Opportunities For Growth
In addition to identifying the five stages of the Private Brand journey, our research has revealed potential for advancement in nearly every market and at every stage.
For example, Norway, Ireland, South Korea and the U.A.E. all have significant gaps in current market share versus their potential. Even France, currently at 26% Private Brand share, has the potential to reach 29% according to our model.
As the Private Brand evolution continues, Daymon is continually developing new strategies and innovations to help retailers and suppliers around the world meet the needs of their diverse markets. The solutions are ready. The only question is – how far do you want to climb?
For more information, visit www.daymon.com or contact [email protected]
© 2018 European Supermarket Magazine – your source for the latest retail news. Sponsored content. This article first appeared in ESM Issue 4 2018. Click subscribe to sign up to ESM: European Supermarket Magazine.