The Meaninglessness Of 'Healthy' Food: Six Ways Labels Need to Change
Published on May 13 2016 11:05 AM in Features tagged: Healthy Eating / USA / FDA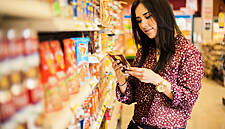 It wasn't easy for KIND bars to become officially "healthy." The term falls within the patchwork of sometimes outdated or incomplete labeling regulations administered by the U.S. Food and Drug Administration, which had told Kind LLC that its bars didn't meet the required nutrient specifications.
Kind pushed back by challenging the FDA's definition of "healthy" and arguing that good-for-you staples such as salmon and avocados also fail to meet the standard. And it worked: In an e-mail sent to the company last month from FDA, and reviewed by Bloomberg, Kind received clearance to keep the healthy label while regulators worked on redefining the term.
Many of the claims made on supermarket labels are under heightened scrutiny. Some are governed by decades-old policy, and others aren't guided by any rules. Susan T. Mayne, director of the FDA's Center for Food Safety and Applied Nutrition, signaled an openness to reevaluating labeling lingo last month. "We are certainly aware of consumer interest in both of these terms, 'natural' and 'healthy,'" she said in a speech at the Grocery Manufacturers Association Science Forum.
Some of these changes are already in the works—although there's unlikely to be any regime that prevents food companies from gaming the system. "Companies will continue to use health claims every chance they get," says Marion Nestle, professor of nutrition, food studies, and public health at New York University, "and if the rules change, they will reformulate some of their products to get around the changes." Below, a guide to label lingo that could be changing in the future.
1. 'Healthy' doesn't always mean good for you.
Under the current FDA definition, a food may be deemed "healthy" if it meets requirements focused on fat, cholesterol, and other nutrients. The apricot and almond-flavored KIND bars have 10 grams of fat, for example, but current regulations set the cut off for snack foods at three grams. That characterization "is not always necessarily meaningful," says Kristin Kirkpatrick, manager of wellness nutrition services at Cleveland Clinic Wellness Institute. There's no specific proposal yet to change the FDA rules. Kind Chief Executive Daniel Lubetzky wants to see a definition that reflects the latest dietary science instead of fads. "Focus on real foods," he suggests, rather than the current system that highlights a macronutrient such as fat. A revamped healthy label should "encourage people to eat wholesomely and minimally processed ingredients," he says.
2. 'Natural' doesn't really mean anything.
There are essentially no firm rules for this label. The FDA has not defined it. The U.S. Department of Agriculture does have a "natural" rule: Meat and poultry products carrying the label must contain no artificial ingredients and be minimally processed. But that framework has so many exceptions that it's basically meaningless. Case in point: Chicken nuggets, Cheetos, and even Gatorade have all been labeled "natural," with no regulatory consequences. The FDA began seeking comments from the public in November on how "natural" should be defined, and when the comment period ended on May 10 there were about 5,000 suggestions, according to Politico. This won't be an easy one, as government agencies have learned many times that label terms are malleable in the hands of consumer companies. The Center for Food Safety would prefer to see the word "natural" banned entirely or allowed only on single-ingredient foods. The Grocery Manufacturers Association, a trade group for food companies, wants the definition to "allow acceptable post-harvest processing and production methods."
3. Serving sizes really do matter.
The FDA requires that serving sizes reflect the amounts people actually eat, not just what manufacturers suggest, and it does this by setting reference values based on consumption data. The last time the FDA updated those values was in 1994, and the agency recently determined that 27 of the 158 current reference values need to be updated and 25 new values need to be added. Food regulators also want to force the relabeling of some products that claim to contain more than one serving when, in practice, consumers are likely to eat the entire package in one go.
4. 'Added Sugar' is an optional disclosure.
The Nutrition Facts labels that tell us what we're eating in percentages of the recommended daily values don't have to distinguish between naturally occurring sugars, such those in an apple, and added sweeteners such as sucrose, maltose, and the oft-maligned high-fructose corn syrup. The FDA wants the new nutrition labels to sort that out by stating explicitly how much of the recommended daily intake of added sugar the product contains. The proposal has support from such groups as the American Diabetes Association and the American Heart Association. Industry groups, including the American Bakers Association and the Sugar Association, are opposed.
5. 'Made With Whole Grains,' if only a little bit.
When a pizza crust says it's "made with whole grains," that could mean 10 percent whole grains and 90 percent white flour. The Center for Science in the Public Interest thinks the label should state just how much of the product is made with whole grains. "Companies should put the percentage of the ingredient [that is actually present] if it's bragging about it," says Laura MacCleery, director of regulatory affairs at CSPI. This could apply to the ubiquitous "made with real fruit" claim, too.
6. Does this food simply help?
If a label makes a specific health claim about a disease—say, "may help reduce the risk heart disease"—the FDA must approve it based on scientific evidence. But a structural or functional claim that only says the food helps the body do something—"helps maintain a healthy heart"—doesn't require FDA approval at all. If the difference isn't apparent to you, join the club. CSPI wants the FDA to require that these claims are also substantiated with data.
News by Bloomberg, edited by ESM. To subscribe to ESM: The European Supermarket Magazine, click here.