Ball's Rexam Deal Gets Full EU Probe on Antitrust Concerns
Published on Jul 21 2015 9:08 AM in Packaging And Design tagged: Packaging / Ball Corp / Rexam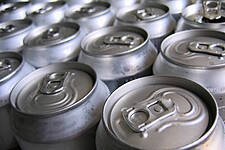 Ball Corp.'s €6.37 billion purchase of Rexam Plc faces an in-depth European Union probe over concerns the deal may trigger price increases for consumers of aluminum cans and bottles.
The transaction, which aims to create the world's biggest maker of food and beverage cans, would give Ball and Rexam around two-thirds of the plants located in Europe, the European Commission said Monday.
"Very many of us buy drinks in cans –- they are convenient and used everywhere," EU Competition Commissioner Margrethe Vestager said. "It is therefore very important that the commission makes sure that Ball's takeover of Rexam does not restrict effective competition and so risk price increases."
The Ball-Rexam tie-up is the biggest takeover in metal and glass packaging, according to data compiled by Bloomberg. Both Ball and London-based Rexam supply beverage containers to Coca- Cola Co. and brewer Anheuser-Busch InBev NV. The combined company will have about 22,500 employees and $15 billion in sales and create $300 million in annual cost savings, according to Ball.
The commission said its in-depth probe will focus on the importance of having a sufficiently wide network of production facilities across Europe and the barriers to entry due to the significant investment required to build a plant.
The EU set a Nov. 25 deadline to rule on the deal.
Bloomberg News, edited by ESM