Euro 2020 – Supermarkets In England And Italy Brace For Final Frenzy
Published on Jul 9 2021 3:43 PM in Retail tagged: Featured Post / UK / Food / Supermarkets / EURO 2020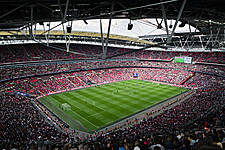 Soaring demand for beer, soft drinks, salads and barbecue food as England supporters prepare for Sunday's Euro 2020 final, while Italian football fans are going with trusted favourites such as pizza for their matchday snack of choice.
In the UK, Asda, Britain's third largest supermarket group, predicted it would sell over 45 million packs of beer and more than one million pizzas this weekend.
On Sunday alone it estimates it will sell 200,000 individual burgers, equivalent to 19 tonnes.
To mark the occasion, Asda's Southgate store, in London, has even taken on a temporary name change for the weekend, rebranding as 'Asda Gareth Southgate' after the England team coach.
Everyone at our Southgate store is so proud of the way that England manager Gareth Southgate has led his team to the semi-finals of Euro 2020 that they've temporarily changed its name to Asda Gareth Southgate! https://t.co/JlUKt8at9E pic.twitter.com/EdamGefcI1

— Asda (@asda) July 7, 2021
Elsewhere, Simon Roberts, CEO of Sainsbury's, Britain's second largest grocer, said this week that last Saturday (July 3), when England played Ukraine in their Euro 2020 quarter final, the group sold around 17 packs of beer a second, which was 60% higher than an average Saturday.
"We're working hard to make sure we can maintain availability but clearly there are challenges in the upward supply chain," he said, highlighting some issues in high demand product areas, such as beer, soft drinks and salad packs.
Elsewhere, Tesco offered a playful take on a popular English football slogan via Twitter, quipping "For anyone who ever wondered about the origin of our name..."
For anyone who ever wondered about the origin of our name...#ItsComingHome pic.twitter.com/CWxuVurPgC

— Tesco (@Tesco) July 6, 2021
Forza Italia
In Italy, pre-match preparations appear to be a little more subdued – after all, the country has made a few final appearances in recent years – but supermarkets are still enjoying a Euro 2020-linked surge in sales.
A recent study by supermarket chain Coop Italia, in conjunction with Nomisma, found that pizza, potato chips and popcorn are the food choices for the 30 million or so Italians that are tuning in to watch the tournament, with two thirds (66%) opting for a traditional Italian pizza.
Ice cream (47%), hamburgers/sandwiches (34%) and snacks such as pistachios, peanuts and pretzels (34%) also score highly, as does beer (67%) and carbonated drinks (54%). Younger consumers may also opt for kebabs (28%), sushi (23%) and poké bowls (20%) as their go-to football feast.
Elsewhere, on Facebook, the retailer quipped that while the country has 'set off on a gastronomic tour of Europe, the home cuisine is unbeatable' – with an image of popular pasta dishes lined up in a 4-3-3 formation.
Euro 2020, which has also been notable for high-profile snubs of some of the competition's main sponsors, comes to a conclusion this Sunday, with the final kicking off at 9pm CET at Wembley Stadium in London.
May the best team win! [Picture credit ©jarino47/123RF.COM]