Blessed Are the Cheesemakers As Russia Embargo Enters Third Year
Published on Aug 10 2016 11:56 AM in Supply Chain tagged: Cheese / Russia / Imports / Russian imports / food sales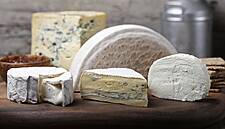 Russian President Vladimir Putin's ban on many food imports in retaliation for Western sanctions has taught his country to feed itself, and that's helped keep inflation down.
Cut off from delicacies ranging from French brie and camembert to Norwegian salmon since August 2014, local companies have stepped in with their own production. Russians have eaten it up, with consumption of foreign produce now nearly at historical lows, according to ACRA, a rating company. In value terms, imports now account for as little as 22 percent of food sales, down from 34 percent at the start of 2014, ACRA said in a report. Even when inflation peaked near 17 percent in March 2015, the effect of the ban contributed only 1.6 percentage point to that reading, it estimates.
The share of imported cheese on the domestic market was at 23 percent in the first quarter of 2016, down from 49 percent two years earlier, while pork dropped to 8.5 percent from 18 percent, according to ACRA. With inflation slipping in July to the slowest in more than two years, the embargo's effect on prices was zero, it said.
After Putin collided with the West over Ukraine in 2014, Russia went on a self-sufficiency crash-course.
QuickTake Do Sanctions Work?
What that's meant is a pivot toward policies aimed at making goods or services domestically that were previously produced abroad. While benefiting agriculture in particular - whose share in economic output last year rose to 4.4 percent, the highest since 2003 - it's also a positive for the central bank. Annual inflation has slowed this year, though it's still at 7.2 percent.
"Maintenance of the embargo and the decline in the share of food imports -- all things being equal -- make inflation in Russia more steady and dependent on domestic monetary factors and the rate policy of the Bank of Russia," said Dmitry Kulikov, a senior analyst at ACRA.
News by Bloomberg, edited by ESM. To subscribe to ESM: The European Supermarket Magazine, click here.