Systems, Processes, Maintenance Highlighted At WITRON Logistics Day
Published on May 18 2017 12:18 PM in Supply Chain tagged: Germany / Logistics / WITRON / WITRON Logistics Day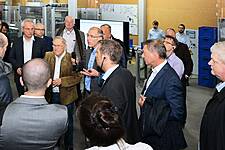 More than 80 guests from the retail, e-commerce, spare-parts distribution, and manufacturing sectors, as well as external service providers, visited Parkstein, Germany, at the end of April, to take a look at the future of intra-logistics during a dedicated WITRON logistics day, which was themed 'The Digital Logistics Centre'.
The event examined the IT- and software-based exchange of systems and components within the entire supply chain, both horizontally and vertically, in real time: new systems like OFP, AIO and ATR, and an FTS solution with swarm intelligence, as well as a sustainable system operation with Service 4.0. These are issues that will considerably influence the logistics environment of today and tomorrow, demanding innovative solutions from service providers and operators at the same time.
"Intra-logistics is in the midst of a digital transformation, both within the logistics centre and along all other stations in the supply chain," says WITRON chief executive Helmut Prieschenk. "Consumers' demands are changing ever faster. This is why processes have to be designed to be as flexible as possible, allowing operators of logistics centres to react to customers' needs in real time.
"This requires a holistic horizontal and vertical network. This is the base to achieving a global optimum along the supply chain."
Mandatory, at this point, is the physical nature of the systems and information technology.
"Despite the prioritisation to the digital world, one thing is quite important: the physical nature of the systems is the prerequisite for a sustainable, end-to-end integration," explains Prieschenk.
End-To-End Network
The WITRON event also hosted discussions on how to best optimise the end-to-end logistics network.
WITRON's founder, Walter Winkler, presented the experts with the latest innovations from WITRON's think tank. When developing these systems, Winkler explained, the motivation was based on concrete customer demands for making logistics processes more cost-efficient, more flexible, and faster.
For example, with OFP (Optimal Fresh Picking), WITRON has applied a patented solution that combines all applications for efficient fresh-food logistics in one system. This is because the store-friendly picking of full totes/cartons, as well as the piece-picking from totes into cartons, is done automatically with the same technology: ergonomic, space-saving and compact, with only a few conveyors.
All-In-One Order Fulfilment
Since the online business is subject to major fluctuations and changes almost daily, it requires solutions that can quickly react to the volatility of markets.
With the 'All-in-One Order Fulfilment' concept (AIO), WITRON takes a decisive step: a solution that is suitable for all system sizes and industries, almost all business models, product structures and delivery channels. The system offers short order cycle times, integrated returns handling – ergonomic, flexible, scalable, and, as such, highly cost-efficient.
An ideal addition to the AIO system is the Automated Tote Repack system, which was also presented in live operation during the logistics event. ATR allows the fully automated removal of different products from a single-item receiving pallet, placing them into the storage totes in a volume-optimised manner and without the use of personnel. Moreover, the scalable solutions can be adapted to the individual product sizes, giving it high flexibility.
Embracing Digitalisation
"Whether it is logistics design, the development of new IT and mechanical solutions, or the efficient execution of service, maintenance, and system operation tasks, digitalisation offers a wide range of opportunities," says Helmut Prieschenk.
The WITRON logistics day was a successful event, in terms of gained knowledge and exchange of information. Additional events are already being planned for later this year.
Log on to www.witron.de for more information.
© 2017 European Supermarket Magazine – your source for the latest retail news. Sponsored content. Click subscribe to sign up to ESM: The European Supermarket Magazine.