Tesco To Source More Seafood In A Sustainable Way
Published on Apr 30 2016 7:59 AM in Supply Chain tagged: Seafood / Tesco / Sustainability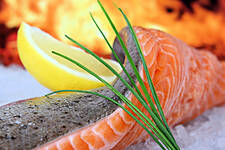 British supermarket giant Tesco has announced a number of measures, which will see it source more of the seafood it sells in a sustainable way, in partnership with the Marine Stewardship Council.
To achieve this, Tesco is rapidly expanding the MSC-ecolabel scheme for pre-packed and frozen fish sold in Tesco stores; introducing MSC-certified fish to its 656 fish counters, making sustainable fish accessible to shoppers across the UK; and ensuring that all tuna sold at Tesco stores is sourced in a sustainable way, whether own label or branded.
Tesco introduced the Marine Stewardship Council (MSC) ecolabel across 28 different types of chilled prepacked fish, including cod fillets, smoked kippers, haddock fishcakes and fish fingers, in April.
In May it will introduce the label to its 656 fish counters across the UK, and later this year will introduce it to relevant frozen fish lines too.
The MSC sets the world standard for sustainable fishing, and the ecolabel is an easily recognisable way for customers to be sure they are buying environmentally sustainable fish.
Tesco has also made a further commitment on sustainable tuna. Since 2012, all Tesco's own-brand tuna has been fished using the sustainable pole and line method.
This approach was then extended for tuna used as an ingredient in own-brand sandwiches, pastas and salads. Because of the importance of a collaborative industry effort to ensure globally sustainable tuna, Tesco is now extending the same sustainability requirements to branded tuna products.
The grocer will allow brands sufficient time to meet these requirements, but expect their plans to be ambitious, credible and publically communicated.
Tim Smith, group quality director for Tesco, said: "Customers tell us it's important they can be sure the fish on our shelves is caught in a way that maintains healthy fish stocks and doesn't cause harm to other sea life or the ocean environment. Rapidly expanding the amount of MSC ecolabel fish on our shelves and counters will make sustainably sourced fish affordable and accessible for shoppers across Britain."
Rupert Howes, chief executive of MSC added, "Tesco's commitment to MSC certified seafood is helping to ensure the future health of the world's oceans."
As the UK's biggest supermarket chain, Tesco is uniquely positioned to help British shoppers to put MSC ecolabelled, sustainable fish on the table, he said.
"By helping their customers to choose certified sustainable seafood, they are also helping them to recognise and reward sustainable fishing, ensuring healthy fish stocks, and healthy oceans for generations to come."
© 2016 European Supermarket Magazine – your source for the latest retail news. To subscribe to ESM: The European Supermarket Magazine, click here.