US Inks Trade Deal With China Promoting Beef, Natural Gas
Published on May 12 2017 10:30 AM in Supply Chain tagged: Trending Posts / China / USA / beef / Trade Deal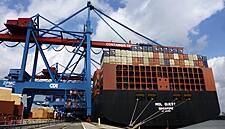 The US and China have reached agreement to promote shipments of American natural gas and beef that Commerce Secretary Wilbur Ross said was part of a broader effort to begin reshaping the trade relationship between the world's two largest economies.
The agreement covers 10 areas where negotiators from the two sides have reached consensus, including agricultural trade and market access for financial services. By mid-July, U.S. beef producers will have broader access to Chinese markets, while America will move forward on allowing the import of cooked poultry from China, according to a joint statement announcing the deal.
The agreements, which grew out of a 100-day action plan announced during an April meeting between President Donald Trump and Chinese counterpart Xi Jinping, and appeared to build on or repeat some commitments that China has already made. Still, they represented the first negotiated pact on trade for Trump, who campaigned on promises to get tough on China on trade before softening his tone as he's sought cooperation on North Korea.
'Not a Breakthrough'
Ker Gibbs, chairman of the American Chamber of Commerce in Shanghai, called the commitments a "good beginning" toward addressing several market-access issues, "but not a breakthrough."
"We'd like to see the actions that go with the commitments," Gibbs said in an emailed statement. "Past foot-dragging means we won't celebrate until these promises are executed."
Chinese Vice Finance Minister Zhu Guangyao, speaking at a briefing in Beijing to announce the agreements, deflected questions about details, repeatedly describing the measures as "balanced."
"The 100-day China-U.S. economic plan is a plan of cooperation, a plan of actions and a plan of win-win arrangements," Zhu said.
Market Sentiment
Ross said the agreement would help to reduce the growing U.S. trade deficit with China -- the country's largest, totaling $347 billion in 2016 -- and help lead to additional negotiations over the next year that could address other parts of the relationship.
"This was pretty much a herculean accomplishment to get this done," he said. "This is more than has been done in the whole history of U.S.-China relations on trade."
China agreed to give "full and prompt market access" to payments companies, like Mastercard Inc., Visa Inc. and American Express Co. The U.S. brought a case against China on its electronic payment services market in 2010. After a World Trade Organization panel ruled against it in 2012, China issued new industry guidelines in 2015 that it said would clear the way for foreign firms.
Also in the plan, China agreed to allow foreign-owned firms to provide credit ratings by July 16. China's Ministry of Commerce and National Development and Reform Commission had already proposed draft regulations in December that would have opened up that market. China will issue both bond underwriting and settlement licenses to two qualified U.S. financial institutions as well.
Beef, Poultry
The deal reaffirms a September agreement to reopen China to U.S. beef exports. This time, China promised to allow American beef into the country after one more round of technical consultations, and no later than July 16, according to the joint statement.
It also paves the way for China to export cooked poultry to the U.S. The U.S. will publish a proposed rule by July 16 to help jump-start the imports, it said.
Gai Xinzhe, a researcher at the Bank of China Ltd.'s Institute of International Finance in Beijing, said China appeared to offer more than the U.S., but called concessions "pretty even from both sides."
"The early harvests look like appetizers for a big meal," Gai said.
News by Bloomberg, edited by ESM. Click subscribe to sign up to ESM: The European Supermarket Magazine.