WITRON Increases Sales By 15% In 2016
Published on Jul 27 2017 10:50 AM in Supply Chain tagged: Trending Posts / Logistics / WITRON / Order Picking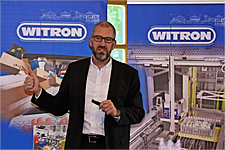 WITRON Logistik + Informatik generated revenue of €485 million in 2016. This corresponds to an increase of 15.5%, compared to the previous year.
As the company announced during its last press conference, the number of its employees rose to more than 2,800 in 2016. In the past four years, WITRON has added 1,000 new staff members. WITRON's subsidiary, FAS FörderAnlagen Systeme, continues to grow as well, increasing its revenue by 4.5%, compared to the previous year.
Digital Future
WITRON's CEO, Helmut Prieschenk, gave a brief insight into how the company is going to shape the future.
"The world becomes even more interlinked. This trend is especially noticeable in the logistics area by our customers and within our own company. Information and algorithms play a central role in this area – data is undoubtedly the decisive resource of the future," said Prieschenk.
"However, digitalisation may never be achieved for the sake of digitalisation itself. Our projects and business models must pay off at the end of the day. Customers did not order from us because of the keywords digitalisation or Smart Logistics 4.0. They did so in order to achieve a return on investment, become more competitive, or with the goal to constantly increase the availability of systems."
Thanks to a variety of data and information, production, suppliers, intra-logistics, transportation and consumers are becoming increasingly interlinked. The goal is the overall optimisation of the value-added network.
For this purpose, WITRON has created the so-called WITRON 4.0 Portal, an intelligent portal that ensures the optimal connection of WITRON systems to the outside world.
Strong Growth
WITRON is experiencing very strong growth in its service department. In 2016, the company employed 1,400 staff members in this sector, which is 40% more compared to the previous year. Service revenue rose by 30%, to some €130 million.
"We are currently servicing about 400 customers," explained Christian Dietl, CEO of WITRON Service. "The major challenge for us is to integrate technology, processes and people in more and more flexible, dynamic, and automated systems, and by achieving maximum cost-efficiency."
WITRON pursues a strategy to achieve the "optimal benefit of each system, as well as the entire warehouse operation, while securing investment at the same time" and regards itself as a partner over the entire life cycle of a contract. For this purpose, the logistics expert relies on a combination of reactive and proactive services in order to be able to act in a highly flexible manner.
WITRON has extensive service and supply-chain expertise, especially in the field of retail and distribution. WITRON operates 40 customer sites with local OnSite teams in ten countries. These teams are permanently located directly at the customers' sites and integrated into the customers' processes.
This ensures both direct feedback from the operator to the planner and developer, as well as the shortest reaction times from the service department.
Latest Developments
WITRON's All-In-One (AIO) solution combines the well-proven and -matured WITRON Order Picking System (OPS), Dynamic Picking System (DPS) and Order Consolidation Buffer (OCB) modules in one integrated system, thus benefitting from the advantages of practically proven order-picking systems for all products and distribution channels (store delivery, e-commerce and omnichannel).
"We integrate two order-picking principles: the static provision for fast movers, and the dynamic provision for slow movers, as well as order consolidation into one system," said company founder Walter Winkler.
"Thanks to the integrated order picking and order consolidation in one system, we are able to ensure an unprecedented flexibility for volume fluctuations of full units, cases, and pieces, both daily and seasonal, in the long run."
Meanwhile, Efficient Mobile Picking (EMP) has been developed for logistics centres in the areas of food retail, online retail, and parts distribution, and it is used to pick different cases in an efficient manner.
"The provision of slow movers in totes and medium-moving products on layer trays offers the customer significant efficiency gains in this area," added Winkler. "The pick front can be changed individually, depending on the current business demands, and thus offers maximum flexibility."
For further information, visit www.witron.de.
© 2017 European Supermarket Magazine – your source for the latest retail news. Sponsored content. Click subscribe to sign up to ESM: The European Supermarket Magazine.