Republic Of Marshall Islands' Bigeye And Yellowfin Tuna Fishery Achieves MSC Certification
Published on Oct 11 2019 3:00 PM in Supply Chain tagged: Trending Posts / Marine Stewardship Council / Yellowfin Tuna / Bigeye Tuna / Marshall Islands Fishing Venture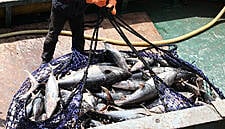 Longline fishing vessels targeting bigeye and yellowfin tuna under the management of the Marshall Islands Fishing Venture (MIFV), a subsidiary of Liancheng Overseas Fishery (Shenzhen) Co. Ltd (SZLC), have achieved Marine Stewardship Council (MSC) certification for sustainable fishing.
The fishery, based in the Republic of the Marshall Islands, is the second bigeye tuna fishery in the world to achieve MSC certification. 
The first was a yellowfin and bigeye tuna fishery in the Federated States of Micronesia (FSM), also owned by Liancheng. 
The assessment, carried out by independent assessors from Control Union, found that the fishery meets all 28 performance indicators required for MSC certification. 
These include measures of sustainable fish stocks, bycatch, habitat impact, and effective management.
The latest stock assessment for bigeye and yellowfin in the Western Central Pacific Ocean (WCPO) shows that stocks are healthy and being fished at a sustainable rate. 
Conditional Certification
In order to ensure that the fishery can respond to any future changes in the health of these tuna stocks, certification is conditional upon the adoption of harvest strategies including harvest control rules, by all member states of the Western Central Pacific Fisheries Commission (WCPFC) by 2021. 
The fishery is currently trialling electronic monitoring systems on 6 of its vessels. As of February 2019, 119 longline fishing trips have been electronically monitored in this manner. 
As part of its certification, the fishery has committed to implement further monitoring, control and surveillance systems, including dockside additional checks, by 2023.
Tuna caught by the fishery is processed in Majuro before being exported to markets in the United States, Japan, China, and other Asian markets.
'A Significant Moment'
Joe Murphy, senior vice-president of marketing at Liancheng Overseas Fishery, (Shenzhen) Co Ltd, said, "This certification is a significant moment in our company's history and marks the culmination of five years hard work. All four MSC certified fisheries owned by Liancheng achieved certification as the result of fishery improvement projects. 
"It has been a companywide initiative to ensure the sustainability of our primary fishing grounds and to offer our valued customers a consistent supply of MSC certified sustainable tuna. We are extremely grateful to the Marshall Islands Marine Resources Authority for their unending cooperation and support during the process. This achievement is as much theirs as it is ours."
'Extra Market Incentive'
Director of the Marshall Islands Marine Resources Authority, Glen Joseph, said, "As a small island nation, the Marshall Islands very much depends on healthy oceans and fishing for our livelihood and the welfare of our communities. 
"MSC certification gives us the confidence that we're fishing our oceans sustainably, leaving a thriving resource for generations to come. It also gives those fishing our waters extra market incentive to safeguard the environment. It's a win-win."
'Responsible Fishery'
Bill Holden, senior fisheries manager at the MSC, said, "Bigeye and yellowfin tuna caught by this fishery in the waters of the Republic of the Marshall Islands can now be sold with the blue MSC label.
"This label means that the tuna can be traced back to a responsible fishery which has all the checks and balances in place needed to safeguard our oceans and seafood supplies for future generations. I congratulate everyone who worked to improve and demonstrate the sustainability of this fishery on this important achievement."
© 2019 European Supermarket Magazine – your source for the latest retail news. Sponsored content. Click subscribe to sign up to ESM: European Supermarket Magazine.