Irish Government Must Focus On Agri-Food Policy: FDI
Published on Jun 15 2017 11:18 AM in Supply Chain tagged: Ireland / Agri-food / Brexit / FDI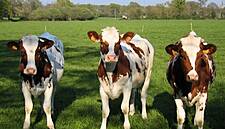 Food Drink Ireland (FDI), the Ibec group that represents the food and drink sector, has called upon the Irish government to have 'a sharp focus on policy implementation for the agri-food sector'.
The FDI makes the call as it believes the agri-food sector will have to deal with extremely challenging domestic and export markets for the remainder of the year as a result of Brexit.
In a new document titled Overcoming Challenges: policy priorities for the food and drink sector 2017, FDI director Paul Kelly stated, "The UK vote to leave the EU will result in a fracture of the single market, leaving Irish agri-food companies facing an extremely challenging climate for domestic and export markets.
"The fallout from Brexit will make it increasingly difficult for Irish agri-food companies to retain their position within the UK food supply chain. This is extremely worrying for our sector due to the interconnectivity between Irish and UK supply chains. The UK is our largest trading partner and home to 40% of our exports. Increasing market share for Irish food and drink companies must become a priority focus for Government, particularly with 230,000 Irish jobs dependent on the sector."
Kelly added that the immediate response must be to ensure that the sector is "fit for purpose" to meet the challenges ahead.
Key Aspects
FDI have called upon the government to focus on five key aspects;
· A Brexit response package that ensures efficient and open markets domestically and internationally.
· Improved state aid rules to allow additional supports for stabilisation measures, investment in competitiveness and market diversification.
· A relentless focus on cost competitiveness to support and accelerate growth.
· Maintenance of our world class food safety regime to underpin our production of safe, sustainable, high quality and nutritious food.
· A strong focus on national research, skills development and apprenticeships in the agri-food sector.
Heavy Dependency
Kelly highlighted that Ireland is more dependant on the agri-food sector than any other industries. The sector accounts for almost half of direct expenditure from the entire manufacturing sector in the Irish economy - €2.1 billion on payroll, €7.9 billion on Irish materials and €1.8 billion on Irish services.
"As a result, it has a high employment multiplier, supporting employment in other parts of the economy in a way that other manufacturing sectors simply cannot," he said
"Uniquely, this economic activity is dispersed throughout all regions of Ireland, particularly in rural areas. It is therefore at the heart of the social fabric of rural Ireland. The ramifications of Brexit or failure to implement policies that support the agri-food sector will be felt across the entire Irish economy."
© 2017 European Supermarket Magazine – your source for the latest retail news. Article by Aidan O'Sullivan. Click subscribe to sign up to ESM: The European Supermarket Magazine.