Japan Retailers Keep Lowering Prices To Sway Frugal Shoppers
Published on Oct 6 2016 8:31 AM in Retail tagged: Japan / Seven and i Holdings Co / J Front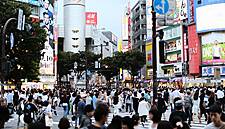 Some Japanese retailers are finding a way to make money even as consumers in the country spend less of it.
Clothing chain Shimamura Co. beat its forecasts this week, with first-half net income rising 46 percent from a year ago, as it limited special sales events and brought in more shoppers by keeping prices consistently low. Aeon Co., Japan's largest retailer, reported second-quarter profit of 882 million yen ($8.5 million) and said it will adjust prices to widen its appeal to frugal buyers.
"It's all about delivering more consistent pricing to consumers," said Thomas Jastrzab, a retail analyst for Bloomberg Intelligence. "Retailers want to make sure consumers see they are providing value."
Companies from Fast Retailing Co. to Seven & i Holdings Co. are under pressure as household spending fell for the sixth consecutive month in August and retail sales declined for the first time in three months. Stagnant wages, a sputtering economy and a declining population are compounding the challenges for retailers, and their most effective response so far has been to keep slashing prices.
Value Pricing
Seven & i, which runs the 7-Eleven chain, last month cut its full-year profit outlook by more than half and wrote down the value of its department and superstores. The company is scheduled to announce earnings and a restructuring plan Thursday.
Aeon shares fell as much as 2.5 percent Thursday in Tokyo trading, while Shimamura advanced as much as 1 percent. The benchmark Topix index rose 0.6 percent.
Stores that are emphasizing value pricing are reporting strong earnings so far this quarter. Shimamura improved profitability with consistent sales from the start of the quarter, Chief Executive Officer Masato Nonaka said this week in Tokyo. The company also benefited from a stronger yen since some of its products are manufactured outside of Japan at lower costs.
"Wage increases have been flat, so consumers today are looking to save money on basic, everyday necessities," said Masafumi Shoda, chief researcher for Nomura Securities Co. "Retailers have to sell their basic line of goods at low prices, or it just won't sell."
Rethinking Strategy
Aeon said it will look to offer value on mainstay items such as shampoo and dishwashing detergent after sales in the second quarter were little changed at 2.07 trillion yen.
"We lost consumers with kids who are price sensitive in the quarter, and we have to rethink our approach in the second half of the year," Soichi Okazaki, who runs Aeon's general merchandise business, said after the earnings report.
Furniture retail chain Nitori Holdings Co.'s focus on discounting items have paid off by boosting volume, a company representative said. The company, which recently opened a store in the upscale shopping district of Ginza, saw second-quarter net income rise 44 percent from a year earlier.
Japan's department stores have been hit by weak consumption, with August sales at outlets nationwide falling the most since March 2015. J Front Retailing Co. reported operating profit declined 13 percent while sales also fell in the first half ended August. The company cut its annual operating profit forecast by 6.3 percent to 45 billion yen.
"Monthly reports from retailers between March and August show that retailers in general suffered," says Mikihiko Yamato, an analyst at BNP Paribas Securities Ltd. "Consumer mindset did play some role in these results."
Competition Intensifies
Supermarket operator Heiwado Co. last week reported a 6.7 billion-yen operating profit for the first half, down 8.2 percent from a year earlier. The company cited intensifying competition with other convenience and drug stores over budget-conscious customers.
"Going forward, we will offer goods at more affordable prices," said Atsushi Okusowa, a manager in the corporate planning division of the chain in western Japan. "It's important to give consumers the image that our offerings are inexpensive."
Fast Retailing, Asia's largest clothing chain, is emblematic of the woes facing consumer companies. The owner of the Uniqlo casual-clothing chain conceded in the spring that a shift to higher prices had failed.
It trimmed its annual profit forecast three times in the fiscal year that ended August, and CEO Tadashi Yanai said the company is now committed to keeping "the lowest possible prices."
News by Bloomberg, edited by ESM. To subscribe to ESM: The European Supermarket Magazine, click here.