Let There Be Light: Lighting In Focus
Published on Dec 15 2017 2:00 PM in Technology tagged: Lighting / Store Fitout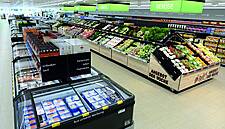 ESM examines how investment in the right sort of lighting can make all the difference to a store's atmosphere. This article first appeared in ESM: European Supermarket Magazine Issue 6, 2017.
Consumer needs are constantly changing, yet ensuring a store remains on-trend can be particularly demanding, given the cost associated with regular store refits. Lighting, however, can make all the difference, creating unique shopping experiences within your store at a fraction of the cost of a full overhaul.
With most customers shopping on autopilot, lighting can be used to lure them towards particular displays, or highlight fixtures that were previously ignored. It can give a store a new identity, or atmosphere; with the right kind of lighting, even a tired-looking in-store environment can be spruced up. In short, lighting is one of the best 'secret weapons' a retailer can have.
As Pierluigi Gusmani, International Sales Director at lighting specialists IMOON, explains, "It's all a question of design. Lighting can influence the in-store shopping experience, creating conceptual visual routes that lead consumers and direct their purchases."
Versatile Choice
LED lighting has been embraced widely by the retail sector, and with good reason - it lasts more than 50 times longer than traditional incandescent lightbulbs, and is up to 75% more energy efficient. What's more, it is incredibly versatile; LED lighting can be built into shelves, fittings, door frames - any in-store fixture that requires a more vibrant ambience.
Thus, it's no surprise that some of Europe's leading retailers have put LED at the core of their in-store investment strategy. Unveiling its 'Filiale der Zukunft' (Store of the Future, pictured) strategy last year, Aldi Süd pledged to implement LED systems that 'adapts to the natural light at any time of the day', saving 48 million kWh in the process.
Elsewhere, Coop Denmark has pledged to invest around DKK 100 million (€13.4 million) in replacing 500,000 incandescent bulbs and fluorescent lights across its store network with LED solutions; which Coop energy manager Peter Kjærgaard Svendsen described as "the largest single LED contract in Denmark, and perhaps the whole of the Nordic region". In the UK, Sainsbury's has pledged to be 100% LED-powered by 2020, a key part of the retailer's sustainability plan.
Internet of Things
Similarly, in this era of Internet of Things (IoT) technology, lighting can be adaptable to different environments, or for different uses. At last year's EuroShop 2017 event, for example, IMOON launched a prototype of its Adaptive Lighting System; a smart light fixture consisting of a single luminaire, which is capable of adapting to specialist areas and guaranteeing the right light for every category of goods. High-flexibility, user-friendly solutions like this indicate the direction the lighting industry is headed.
And it's only going to get bigger. A recent report from Navigant Consulting, a US-based energy technology consultancy, found that the global market revenue for IoT-enabled lighting is expected to grow from $651.1 million in 2017 to $4.5 billion in 2026. Retail is likely to account for a sizeable chunk of this investment.
A fascinating future awaits.
© 2017 European Supermarket Magazine – your source for the latest retail news. Click subscribe to sign up to ESM: The European Supermarket Magazine