Mondi Teams Up With iFoodbag To Revolutionise Temperature-Controlled Delivery
Published on Aug 18 2016 9:06 PM in Packaging And Design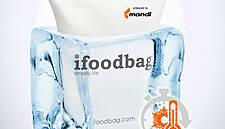 Mondi Group has teamed up with a Swedish start-up company, iFoodbag AB, to develop a solution that makes online shopping for temperature-controlled goods a whole lot easier.
iFoodbag AB conceived the idea to revolutionise the delivery of temperature-controlled goods in an environmentally friendly way, and has been looking for a manufacturing partner to industrialise and produce this innovative packaging solution.
Mondi Group, known as an innovative solution provider, supports collaboration with up-and-coming young companies. Its latest collaboration, with iFoodbag AB, is an exclusive partnership.
Mondi Industrial Bags has assessed various possible approaches to manufacturing the iFoodbag®.
The global network of plants and the wealth of experience gained during the joint development of other packaging and paper-based bag solutions have been key to enabling the large-scale production of the concrete bag in a very short time.
"Mondi Industrial Bags is a leader within the industry, with production facilities all over the world, which is a prerequisite for our global-expansion roll-out this year," says Karl Fallgren, CEO of iFoodbag AB.
The partnership has already proven to be successful. iFoodbag® is available for online retailers one year earlier than originally planned by the Swedish start-up. Deliveries have been made to several customers in Europe and Africa. In addition, there is strong interest from retailers in North America and Asia.
For more information, visit www.mondigroup.com.
© 2016 European Supermarket Magazine – your source for the latest retail news.