New Zealand Poultry Company Tegel Posts Profit Increase
Published on Jun 28 2017 12:00 PM in Retail tagged: New Zealand / poultry / Tegel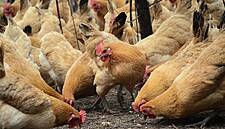 New Zealand poultry producer, Tegel Group Holdings Limited, has released its full-year results for the 2017 fiscal year, 53 weeks ending April 30th, posting a net profit after tax of NZD34.2 million (€22.1 million), 202.8% ahead of FY 2016.
In the previous year, the group's net finance costs amounted to NZD28 million (€18 million). In the FY 2017 this figure was only NZD6 million (€3.8 million). This 78% decrease in finance costs resulted in the sizeable increase in net profits on the previous year.
The company's EBITDA, before depreciation, amortisation and net finance cost was up 16% on the previous year, and depreciation saw an increase of 7.6% while amortisation fell 3%.
Tegel reported that, through its Simplify! project, it was able to make 'excellent progress on cost and efficiency initiatives', and said that the company benefited from these annualised savings.
The group posted a gross profit of NZD145.1 million (€93.7 million), 1.6% below FY 2016. This was mainly impacted by lower domestic pricing. In the domestic market, the Tegel brand launched 29 new products, which supported the revenue growth of 5.9% to NZD457.8 million (€295.6 million).
Export revenue grew $1.1 million (€0.7 million), 1.1% from NZD101.9 million (€65.8 million) to NZD103.0 million (€66.5 million).
Expansion & Automation
Tegel also reported that its planned investments for FY2017 were completed 'on time and on budget'. It invested in a breeder farm in Christchurch, which expanded capacity and additional automaton in New Plymouth with an automated breast de-boner, an auto-cut machine and nine-piece cut up machinery.
The expansion to the farm in Christchurch helped Tegel record poultry volumes of 99,806 tonnes, which is 7.1% more that it saw in the previous fiscal year. The automation resulted in a decrease of expenses due to increased efficiency.
The group reported that its balance sheet is in a position to 'facilitate further growth opportunities for the business with significant headroom on covenants'.
It added, 'Tegel continues to deliver on its key strategic objectives. In the domestic market it is expected that poultry consumption growth will continue at approximately 4 - 5% driven by population growth and increasing consumption per capita due to lower relative price to other proteins and trends towards healthy eating.
'Free range expansion is expected to continue. Further new products will come to market in FY2018 supported by investment in technology. The brand refresh launched in FY2017 will continue in FY2018 with a comprehensive communications campaign to drive growth for Tegel.'
© 2017 European Supermarket Magazine – your source for the latest retail news. Article by Aidan O'Sullivan. Click subscribe to sign up to ESM: The European Supermarket Magazine.