Companies Commit To Simplify Food-Date Labels Worldwide By 2020
Published on Sep 20 2017 12:00 PM in Packaging And Design tagged: Featured Post / food waste / CGF / Food Date Labels / Expiration Dates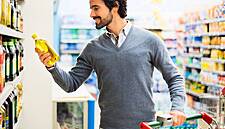 The Consumer Goods Forum (CGF), a network of 400 of the biggest consumer-goods companies across 70 countries, has approved a move to standardise food-date labels worldwide by 2020.
Companies including Tesco, Kellogg's, Walmart, Campbell's Soup, Bimbo, Pick n Pay, Nestlé, Carrefour and Unilever have agreed that retailers and producers should take steps to simplify labels on food products, which would help to reduce food waste.
This includes displaying only one label at a time, with a choice of two labels: one expiration date for perishable items (e.g. 'use by') and one food-quality indicator for non-perishable items (e.g. 'best if used by'). The group is also recommending consumer education, to better explain what these date labels mean.
This announcement expands national efforts to streamline food-date labels in the US, UK and Japan to the rest of the world.
Food Waste
Tesco chief executive Dave Lewis said that the streamlining of food-date labels "could be game-changing in the fight against global food waste".
"Four years ago, Tesco was one of the first retailers to roll out single date coding across our fresh food and meat produce," Lewis added.
"All the evidence from WRAP and our own Tesco research has shown that streamlining date codes helps customers waste less food, and it also reduces waste in our own operations. That's why it's so important we extend this practice to more companies in every country."
Tackling The Issue
The CGF says that an estimated 1.3 billion tonnes of food is lost or wasted each year worldwide, costing UK households up to £700 annually, while that figure stands at $1,500 in the US.
It adds that the standardisation of date labelling is a simple and effective way of reducing food waste, saving consumers money and reducing their environmental footprint.
"Now more than ever is the time for business to play a leading role in tackling food waste," said Peter Freedman, managing director of the CGF.
"This is an issue that can only truly be tackled by collaboration across the value chain," Freedman added. "We believe simplified and consistent date labelling will help us get one step closer to meeting our resolution to halve food waste by 2025, while also helping reduce confusion for consumers."
© 2017 European Supermarket Magazine – your source for the latest retail news. Article by Sarah Harford. Click subscribe to sign up to ESM: The European Supermarket Magazine.