Staying On The Front Foot With The Shoppers Of The Future
Published on Apr 1 2017 1:21 PM in Packaging And Design tagged: Trending Posts / DS Smith / Future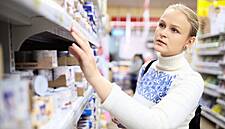 Chiara Covone, director innovation at DS Smith's packaging division in Belgium looks at how increased personalisation and customer engagement will be necessary to ensure brands can stand out on shelf in the years to come
The way we shop has been revolutionised over the last few years. Time-poor, stressed but socially conscious consumers have become increasingly dissatisfied with the mainstream retail experience. They are tired of shopping in bland, identical shopping malls where corporate chains dominate and are instead looking for a quirky experience or personal service that connects with them. Retailers and brands must fight harder for their attention and ensure their products stand out on shelves, as well as online.
Catching The Attention Of Time-Poor Shoppers
Fifty-three per cent of purchasing decisions are made in-store, research shows. Brands have less than one second to convince shoppers to buy their product over a competitor's. In response to this trend, several innovative packaging solutions have emerged.
For example, Retail Ready Packaging (RRP) is now a familiar sight in many supermarkets and has transformed the retail experience. RRP enables a product to be delivered to a retailer in a ready-to-sell merchandised unit, allowing products to be easily placed on the shelf. Good RRP tends to result in more stock and variety on shelf, better product visibility and easier navigation for shoppers.
A further innovation in RRP which DS Smith has been pioneering is SalesFront. Trials have shown that sales of a product continually presented to the front of the shelf can increase by up to 20 per cent, with an average increase of six to eight per cent.
SalesFront is a packaging system which brings products to the front of the shelf by incorporating a specially engineered band into RRP, which smoothly moves the contents forward as each item is sold. By 2020, we expect this packaging solution to be widespread across Europe, helping retailers and brands to improve the shopping experience and make the most of the one second purchasing window.
Personalisation Will Be Key
If current trends continue, the shopper of 2020 will expect personalisation at every turn. We have already seen personalisation on a global scale - most famously embodied in Coca-Cola's "Share a Coke" campaign. Now, having teased the industry for years there is the technology available to make digital print commercially viable for retail ready packaging too. Digital print will enable packaging specialists to offer brands the highest quality, image fidelity and consistency of print, as well as the flexibility to produce RRP in volume, that ties in with an advertising campaign or consumer pack branding. In addition, brands can add topical messages, appropriate to a region, on batches of RRP or promote activity around a particular date. This will dramatically enhance the way brands use packaging as part of the marketing mix.
Rise In E-Commerce
2016 has seen a huge increase in the number of people shopping online. According to the Office for National Statistics, the amount spent online in the UK in September 2016 increased 22% compared with September 2015. The move towards a world in which e-commerce is the default shopping method continues and the changes that this brings with it are gathering pace.
This rise in e-commerce will continue to have a fundamental impact on brands and retailers and in turn present challenges in terms of their requirements from a packaging perspective - a challenge that DS Smith is ready to help with.
Although in many ways, traditional shopping formats are under threat, innovative packaging solutions could hold the secret to connecting with the shopper of the future. It will be vital for brands and marketers to work hand in hand with packaging experts to ensure that packaging is as novel, eye catching and functional as technology will allow.
The future is bright for brands and retailers that don't take anything for granted, but are committed to continuous innovation and adapting to the more discerning customer of the future.
© 2017 European Supermarket Magazine – your source for the latest retail news. Click subscribe to sign up to ESM: The European Supermarket Magazine