P&G's Vow To Innovate Has It Testing Smart Makeup, Toothbrushes
Published on Oct 14 2017 9:00 AM in A-Brands tagged: Featured Post / Procter & Gamble / P&G / Product Development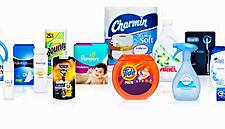 Procter & Gamble survived a board showdown with investor Nelson Peltz earlier this week by persuading shareholders that the company has changed. Now it has to prove it.
Even after declaring victory in the proxy fight, P&G faces lingering skepticism that it can innovate and create a new generation of blockbuster products.
To demonstrate that the company has its mojo back, it's bringing items to market more quickly - and it's developing products via smaller and more frequent experiments. That includes changing its packaging. The company created a new film-based container for liquids that weighs half as much as regular plastic. It only took about six months to develop and is now being tested with Amazon.
P&G also hired a lingerie designer to create a more feminine-looking version of its Always Discreet absorbent underwear with lighter, softer fabric.
"It's quite a shift," Kathy Fish, P&G's chief technology officer, said in an interview in Cincinnati. Rolling out more tests and smaller projects - known as lean innovation - is producing results and generating insights that can be extended to other products, she said.
That may help counter criticism that the company is too stodgy and bureaucratic. When Peltz launched his bid for a board seat in July, he said P&G needed a simpler structure and had trailed its peers in performance in the past decade. He's slammed the business for failing to keep up with changing preferences, saying younger shoppers want smaller brands with compelling stories behind them.
P&G has argued that sales growth is stronger when it's pinned to established brands that consumers recognize.
Consumer Preferences
Still, everyone agrees that the company needs to move faster. Traditional consumer-products makers haven't kept pace with the shifting tastes of customers, said Erin Lash, an analyst at Morningstar.
"It takes them way too long to get a product from concept to shelf," she said.
Acquiring smaller brands can give more established companies new ideas for getting products to market more quickly, Lash said. Even so, big brands have significant advantages, including on the web, where they are often the first names to pop up during a search, she said.
Clorox, maker of Brita water filters and Kingsford charcoal, says it's also testing products earlier and making quicker decisions.
"We are willing to make smaller bets and feed them," Chief Marketing Officer Eric Reynolds said in an interview.
When Clorox realised that younger, urban customers wanted more scented cat litter, it rolled out Hawaiian Aloha Fresh Step in just 11 months - about twice as fast as previous projects.
Bigger Brands
P&G isn't averse to acquisitions, but they need to be profitable, CEO David Taylor said in a recent interview. At any rate, customers have responded more intently to products linked to existing brands, he said.
For instance, P&G helped bolster its Unstopables laundry scents by adding the Downy brand name. The product line, introduced in 2011, now accounts for about a half-billion dollars in sales each year, Taylor said.
Other smaller projects also are producing results. Seed money allocated to one of P&G's scientists led to the creation of a recycled plastic that can be used like new material. Normal recycled plastic has colour and other contaminants, so it's only good for limited use, Fish said.
Smaller tests mean getting products right before they go to mass production, she said. There are currently about 20 tests in motion in P&G's Ventures unit, which explores new product, services and brand opportunities, Fish said.
The trials "help us see whether we've got consumer love, whether the business model is working, and what pivots we might need to make to get to a very robust place - before we go spend tens of millions of dollars industrialising something," she said.
'Smart' Makeup
Some tests are essentially pitches to consumers asking if they would be interested in a product, then having them pay for it. That was was the case for a limited run of "smart" wands that dispense makeup only where needed. It sold all 50 that were offered in Hong Kong, despite a $1,500 price tag.
In Chicago, P&G is testing "Tide Spin," a full laundry service, through its chain of Tide Dry Cleaners stores.
The company also is working with Eric Ries, author of The Lean Startup, and David Kidder, CEO of Bionic, a firm that helps large businesses innovate more.
And P&G is testing new ways to incorporate technology into products. After releasing the Oral-B Genius toothbrush, which tells users how long and where to brush, the company is working on a version with additional capabilities.
In the skin-care category, P&G is using a diagnostic online tool it created for its top-tier SK-II line to help it revitalize the mass-market Olay brand.
Taylor said simplification of the company's labyrinthine management structure - another area attacked by Peltz - is also cutting time to market. While Peltz recommended that P&G be broken into three autonomous units, Taylor believes local managers already have the power they need to respond to consumer trends.
Regional Fix
He cited a recent example in China, a market where P&G stumbled after failing to anticipate demand for more premium products.
A general manager there recommended incorporating two new preferences for products - micellar water and low-silicone formulas. A local team retooled a Rejoice shampoo line in 150 days that boosted the brand's sales, he said.
"In the past, that would have gone to global headquarters," Taylor said. "Now, if we need to adjust for China, adjust for China."
News by Bloomberg, edited by ESM. Click subscribe to sign up to ESM: The European Supermarket Magazine.