Plastic-Eating Enzyme Holds Promise In Fighting Pollution, Study Finds
Published on Apr 18 2018 9:59 AM in Packaging And Design tagged: Packaging / Waste / Plastic / PET / Enzyme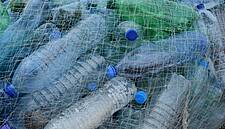 Scientists in Britain and the United States say that they have engineered an enzyme that eats plastic – a breakthrough that could help in the fight against pollution.
The enzyme is able to digest polyethylene terephthalate, or PET, a type of plastic used in millions of tonnes of plastic bottles. PET plastic currently litters landfills and oceans worldwide.
Researchers from Britain's University of Portsmouth and the US Department of Energy's National Renewable Energy Laboratory made the discovery while examining the structure of a natural enzyme thought to have evolved in a recycling centre in Japan.
"We actually thought we were making the enzyme slower by changing a few amino acids, but actually we've made it faster," said Professor John McGeehan, an X-ray crystallographer at the University of Portsmouth.
"We've made an improved version of the enzyme, better than the natural one, already. That's really exciting because that means that there's potential to optimise the enzyme even further," McGeehan added.
The team hopes to one day produce the enzyme on an industrial scale.
"At the moment, plastic isn't recycled. It either ends up in landfill, or its burned," McGeehan added. "If it's burned, then it generates CO2, and then you need to make more plastic by digging up more oil. This system would allow you to recycle plastic back again properly – 100% recyclable, 100% sustainable."
Independent scientists cautioned that the enzyme's development as a potential solution was still at an early stage.
News by Reuters, edited by ESM. Click subscribe to sign up to ESM: European Supermarket Magazine.