EuroShop 2020 – The World's Biggest Retail Trade Fair Kicks Off In Düsseldorf
Published on Feb 16 2020 7:00 AM in Retail tagged: Featured Post / EuroShop / Messe Düsseldorf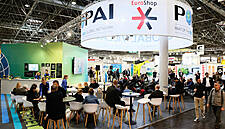 The eyes of the retail world will be on Düsseldorf between now and 20 February, for EuroShop 2020, the world's biggest retail trade fair.
With some 2,300 exhibitors from 60 countries expected (across a floor space of 125,000 square metres), not to mention 114,000 trade visitors, EuroShop is an indispensable meeting point for retail professionals, offering insight into future trends and presenting state-of-the-art innovations in technology, energy management, store design, and a myriad of other growth areas.
The venue, Messe Düsseldorf, has also been upgraded for this year's EuroShop, with the smaller Halls 1 and 2 being demolished to make way for a state-of-the-art Hall 1, with increased access.
Experience Dimensions
EuroShop is built around eight 'experience dimensions', which will seek to inspire delegates and cover all aspects of the retail environment.
Questions such as, 'What role should my store play in today's modern marketplace?' 'What does it have to look or feel like?' will be addressed by the Shop Fitting & Store Design dimension, traditionally one of the largest at EuroShop.
The Retail Technology dimension, another major draw, will present the latest innovations in customer engagement, mobile payments, augmented reality, artificial intelligence, cloud-based services, the Internet of Things (IoT), and the growing digitisation of the store experience.
The Retail Marketing dimension, meanwhile, is a point of interest for digital creatives, with a focus on customer and brand experience and personalisation, while the Lighting dimension will address smart lighting, the integration of lighting with IoT technologies, and sustainability and efficiency concerns in the lighting sector.
The Visual Merchandising dimension is all about storytelling, enabling retailers to effectively meet the demands of the offline/online shopper with added features, such as augmented reality, or pop-up and digital stores.
The growing food-to-go and in-store catering trends will be addressed in the Food Service Equipment dimension, a new addition to EuroShop 2020, while the Refrigeration & Energy Management dimension will bring together both economy and ecology, enabling retailers to keep ahead of trends while reducing their carbon footprint or going climate neutral altogether.
Finally, the Expo & Event dimension will address the needs of trade fair and events professionals, exploring how digitalisation and 'festivalisation' are shaping the live-event community.
Added-Value Aspects
As well as boasting a wide range of exhibitors from across the retail spectrum, EuroShop also boasts an unrivalled line-up of side events, with a series of lecture and discussion forums boasting high-calibre speakers.
Some 600 speakers will be delivering 500 expert talks over the five days of EuroShop 2020, across dedicated stages in each of the experience dimensions, including the Retail Technology Stage, Omnichannel Stage, Start-Up Stage, Store Design Stage, Retail Designers' Stage, Energy Management Stage, Retail Marketing Stage, and Expo & Event Stage.
These lectures are free to attend for EuroShop visitors and do not require prior registration. In addition, they will be simultaneously interpreted into German and English and/or English only.
A number of special events will also take place to coincide with EuroShop 2020. For example, the popular POPAI Global Village (Hall 1) has been rebranded to incorporate all aspects of point-of-purchase and point-of-sale marketing, as well as host presentations on this topic.
In Hall 3, delegates can visit the Start-Up Hub, which is a dedicated presentation area aimed at new companies operating in the development of the latest retail IT systems and solutions.
One of the most popular aspects of EuroShop 2020 is likely to be the Innovations Hub, which will deliver innovative future visions from the fields of man-machine interaction, and virtual and augmented reality. Located in Hall 4 and developed in cooperation with Düsseldorf University, Tennagels Medientechnik and LAVAlabs Moving Images, the hub is expected to deliver a series of innovative workshops and multi-sensory experiences.
The IFES Global Village will also be a highlight in Hall 4, as a meeting point for the IFES family (International Federation of Exhibition & Event Services) as well as a networking hotspot for business partners around the world. The IFES Global Village will also play host to a breakfast event featuring students and emerging talent on 17 February.
Premium City, which will feature in Hall 5, will see the retail design course of the design faculty of Düsseldorf University merge retail, public space and mobility into a 665-square-metre exhibition space, while Hall 9 will welcome the return of the Italian Lighting Lounge for the third exhibition running.
The EuroShop Designer Village will be a highlight of Hall 12, putting the spotlight on forward-looking design concepts and boasting a bespoke exterior by the architecture and design faculty of the Peter Behrens School of Arts (PBSA), in Düsseldorf.
Finally, ECOpark – a dedicated area looking at smart energy solutions – will be a popular destination in Hall 15, exploring smart cross-outlet concepts that cater to the development of increasingly connected, sustainable energy systems. As well as this, state-of-the-art climate and air-conditioning technologies will be in the limelight.
That Winning Feeling
Awards are another key part of the EuroShop agenda, and the upcoming show features a broad range of events celebrating the achievements of the sector.
The EuroShop Retail Design Awards will acknowledge outstanding store concepts and designs, while the Retail Technology Awards Europe (RETA) will highlight prominent IT solutions in retail, and the Wissenschaftspreis will be awarded by EHI to scientific projects of high relevance to the retail industry.
Among the other awards programmes set to take place are the POPAI D-A-CH Awards, acknowledging excellence in point-of-sale marketing in German-speaking markets; the Innovationspreis Architektur und Innovation, by trade magazine AIT; the IFES Development & Innovation Award, presented by the International Federation of Exhibition & Event Services; and the Trendscouting Award, which will see EuroShop exhibitors singled out for their relevance to the architectural world.
For more information, visit www.euroshop-tradefair.com.
© 2020 European Supermarket Magazine – your source for the latest retail news. Article by Stephen Wynne-Jones. Click subscribe to sign up to ESM: The European Supermarket Magazine.