Planning To Attend PLMA World Of Private Label? SUBSCRIBE TODAY To Get The Inside Story
Published on Apr 22 2018 12:58 PM in Private Label tagged: PLMA / PLMA World of Private Label / ESM: European Supermarket Magazine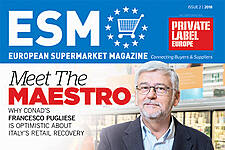 In early May, ESM: European Supermarket Magazine will be publishing our annual special edition dedicated to the PLMA World Of Private Label trade show in Amsterdam, which takes place on May 29 and 30.
With some 14,000 trade professionals from 115 countries expected to attend the event, this year's show is likely to be the biggest to date, and for those planning to attend, ESM is the place to get the inside story on the main attractions, trends and must-visit stands at this year's show.
As well as profile the forthcoming event, ESM will also undertake a deep analysis of the current trends driving own brand sales across Europe.
Work in retail? You won't want to miss this. SUBSCRIBE TODAY to make sure you don't miss out!
Alternatively, for further details on advertising opportunities, contact the ESM sales team at:
Niall Doyle   [email protected]
Des Ball   [email protected]
Rocio Palma Perez   [email protected] 
Neill Burke  [email protected]
Alan O'Brien  [email protected]
Click subscribe to sign up to ESM: The European Supermarket Magazine. Content subject to change. For details of our sales packages, click advertise.