PLMA World Of Private Label 2019: Private Label On The Move
Published on Apr 18 2019 4:18 PM in Private Label tagged: Trending Posts / PLMA / PLMA World of Private Label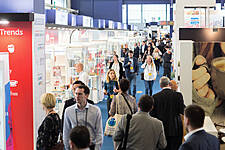 Private-label products have permeated every part of the grocery landscape in recent years, as shoppers embrace own-brand alternatives for everything from cereal and frozen peas to shampoo and cat food. But with PLMA World of Private Label around the corner, in what categories is private label gaining the most cut-through? This article first appeared in ESM Issue 3 2019.
ESM has teamed up with market intelligence firm IRI to take a closer look at private-label performance across seven major European markets: the UK, Germany, France, Italy, the Netherlands, Greece and Spain.
The data has been sourced from IRI Infoscan MAT for the period ending December 2018, and it incorporates the ten macro-categories of Alcohol, Ambient, Baby, Chilled and Fresh Food, Confectionery, Drinks, Frozen Food, Household, Personal Care, and Pet Care.
France: Private Label Losing Ground In All Categories
Last year was tough for grocery retail in France. FMCG volume sales saw the biggest drop in ten years, and both volume and value sales of private-label products declined.
While many retailers may have seen growth in their premium own brands, with French shoppers increasingly looking for organic ranges and environmentally friendly products, there was little growth to be seen in private-label market share overall, with every category staying flat or declining, compared to the previous year.
As with several other European countries in this study, private-label market share is highest in Frozen (38.9%) and Chilled (35.4%). Chilled was the only macro-category in which private-label value sales increased in 2018, but this growth still lagged behind the national brands, and the category saw a 0.2% drop in market share.
Ambient was the only category that didn't see a decline in private-label market share, remaining flat year on year.
While private-label snacks such as crisps lost market share in favour of national brands, there was share growth in staples such as canned vegetables and fruit compotes, which balanced out the Ambient category.
Private label may have found the going tough in France in recent years, but there are opportunities ahead.
Restrictions are being placed on discounts under the new French food industry laws that were introduced at the start of 2019, which may benefit retailers by putting a more visible price gap between their own-label products and big-brand competitors.
Germany: Big-Brand Growth Knocking Private Label's Position
As the birthplace of discounters Aldi and Lidl, private label has historically had a strong position in the German grocery market, but big-brand players have been flexing their muscles in recent years, meaning there were year-on-year declines in own-brand share across nearly every category in 2018.
In spite of this hit, private label still dominates several categories in Germany, securing more than half of the market share in Frozen (55.2%), Pet (54.4%) and Chilled (52.5%), and just under half in Ambient (45.0%) and Homecare (41.7%).
Frozen Food experienced a 0.2% drop in private-label share, after losses in the frozen-meat segment, however, the hot weather in Germany last summer did give a boost to the Frozen category, with ice cream, in particular, benefitting from the 2018 heatwave.
Other categories did not fare as well. Confectionery saw a 1.1% decrease in private-label market share, as retailers battled to compete with big brands promotions and the growing presence of branded products in discount stores, particularly in the chocolate segment. Similarly, the market share of private-label Soft Drinks fell by 1.3%, as premiumisation, pack downsizing, and increased listing in the discount channel tipped the scales in favour of big brands.
However, if German retailers and discounters can keep developing their private-label offerings to compete with the branded products that are popping up beside them on shelves, they should be able to retain their strong position in the market.
Greece: Branded Products Continue To Dominate
In recent years, Greece's economic situation and the arrival of Lidl has led to growth in the private-label sector, as shoppers sought out low-cost products. However, private-label penetration in Greece is still low when compared to other European markets, achieving a total market share of 15.7% at the end of 2018.
The categories where own brands hold a strong market share are Pet (31.4%) and Homecare (24.0%), but private-label share is still less than one tenth in several categories, including Drinks (7.9%), Personal Care (5.2%), Confectionery and Baby (both 4.6%), and Alcohol (3.9%).
While private label began to show signs of stabilisation in 2017, all categories experienced a decrease in market share last year, with the exception of Confectionery, which saw no change.
According to IRI, private label is seeing these declines as store brands have no established positioning in Greek shoppers' minds. Time will tell as to whether this changes.
Italy: Private Label Slowly Gaining Ground
While private-label penetration may not be as high in Italy as it is in other European markets, it still accounts for more than a quarter of the market share in the Frozen (29.1%) and Chilled (26.3%) categories.
More importantly, these figures are on the rise. Nearly every category experienced growth year on year, as retailers' investment in their own brands is improving customer perception and helping gains in market share and sales.
The Chilled category had the biggest increase in private-label share (1.0%), benefitting from an increased focus on healthy eating, with more demand for private-label fruit and vegetable products. Baby also registered a relatively high increase (0.7%), due to strong sales in private-label wipes and a branded value sales decline in nappies and, to a lesser extent, infant milk.
Although private label is gaining ground, major brands are promoting their products more aggressively every year, so Italian retailers need to continue investing and innovating if they want to keep growing their market share.
The Netherlands: Innovation Separating Winners And Losers
After consistent growth in recent years, the private-label market has started to stabilise in the Netherlands, with some categories faring better than others.
The Chilled category is dominated by private label, with a 58.5% market share. This increased by 2.2% last year, driven by private-label innovation, with new convenience and snacking products becoming available in Dutch stores.
The other growth category was Baby, which saw private-label share increase by 1.3%, to 26.0%. This is a category in which, historically, market share has remained low, as consumers have opted for brand names, however, this has started to change in recent years, especially in terms of baby food.
Most other categories saw a decline in private-label share. The Drinks category went down by 1.8%, as brands became more innovative than private label when dealing with increased concern about the sugar content in beverages, adding more low-sugar or natural alternatives.
Similarly, private-label share fell by 1.7% in the Frozen category, as own-brands battled to compete with innovations in branded ice cream, and as shoppers switched from frozen fish to fresh produce, which had, and continues to have, an effect on private-label ranges.
Innovation seems to be the key to success in the Netherlands. If retailers can shake up their product ranges and not fall behind the big brands, maybe they can get market share growing once again.
Spain: Demand For Own-Brands Continues To Grow
Consumer confidence in Spain has been knocked by concerns about the economy, unemployment, and political instability. This may be bad news for big brands, but good news for private label.
At the supermarket, sales of brand-name products are decreasing in volume, while demand is high for own-brand goods from the likes of Mercadona, Lidl and Aldi.
As a result, own-label products dominate several grocery categories in Spain. Private-label market share is more than half in Homecare (60.1%), Frozen (57.8%), Pet (51.9%) and Ambient (51.8%).
It also doesn't appear as though this will change any time soon, as there were strong increases in private-label share in nearly every category year on year, with the exception of alcohol, which dropped by 0.8%. Although private label is already dominating several parts of the grocery aisle, there are still opportunities for retailers to capture even more market share through premiumisation or by introducing new formats and sizes.
UK: Private Label Growing In Most Categories
With uncertainty around Brexit continuing and exchange rates taking a hit, consumer confidence in the UK has been falling. This means that shoppers are cautious and willing to shop around for a good deal. With this in mind, total private-label sales were up 0.2% in the last year.
Private-label share is strongest in the Chilled (74.8%) and Frozen Food (47.6%) categories, but it also accounts for more than a third of the market in Ambient and Household. Market share remained relatively stable across most categories in 2018, with Household seeing the greatest growth (1.4% year on year).
However, there are still a few categories in the UK where private label is struggling to compete with big name brands and premium products. Own-brand market share for Alcohol (BWS) fell by 1.0%, to 15.4%, while the share in Impulse/Confectionery dropped to 15.2%.
There's been a lot of change in the UK's grocery market over the last year, including the continued growth of discounters Lidl and Aldi, the proposed merger of Sainsbury's and Asda, and the launch of Tesco's discount chain. If these retailers can get their private-label propositions right, placing emphasis on both quality and price, it could be what separates them from the pack.
© 2020 European Supermarket Magazine – your source for the latest retail news. Article by Stephen Wynne-Jones. Click subscribe to sign up to ESM: European Supermarket Magazine.