Quiche. Morrison's Secret Weapon in the War on Price: Gadfly
Published on Sep 14 2016 1:00 PM in Features tagged: Trending Posts / UK / Morrisons / price war / Quiche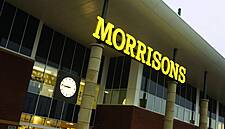 Morrison has a secret weapon in the supermarket price war: quiche.
Its own food production facilities, from fish processing plants to pie-making factories, already supply over half of the fresh food it sells, and about a quarter of all the food in its stores.
But chief executive David Potts wants to supply other companies, in a stealth effort to win the supermarket price war, and help Morrison increase annual profit by up to 100 million pounds ($132 million) a year to boot. Its rivals had better take note.
Morrison is the only one of Britain's big four supermarkets to have such extensive food production facilities. And putting more volume through them can help it make cheaper food, to better compete with its other big rivals Tesco, Asda and Sainsbury, as well as the German discounters Aldi and Lidl.
What's more, Morrison's heartland is the north of England, so supplying companies in other parts of the country won't take trade away from its stores.
Morrison has already made a start in expanding its wholesale operations -- made possible by its manufacturing base -- with an agreement to supply hundreds of products to Amazon. It also sells on its own food and other brands to the Motor Fuel Group, which operates gasoline stations.
But there could be more to come. Potts, who became chief executive in March 2015, wants to develop manufacturing, wholesale and distribution alongside Morrison's traditional supermarket business.
That's a smart move. Just look at British wholesaler Booker. As Gadfly has pointed out, shares in Booker, which supplies the bread to local corner shops and the cheese for pub ploughman's lunches, have outperformed Apple over much of the past five years.
Shares in Britain's fourth biggest supermarket chain by market share have fallen by a third over the same period. If just a little of Booker's magic could rub off on Morrison, that would be welcome to investors.
The emphasis on wholesale could also help it meet its medium-term target of increasing pre-tax profit by 50 to 100 million pounds a year. A more favorable contract with Ocado for running Morrison's online business, and deals with third parties, such as Timpson dry cleaners, to take space in stores, should also contribute.
That's important because Morrison's profit has slumped over the past few years. The consensus of analysts' forecasts is for pre-tax profit of 138 million pounds in the first half of its financial year, to be reported on Thursday, broadly flat on the year earlier, according to Bloomberg data.
But most importantly, making more pies, or producing more bunches of flowers means economies of scale, and that means cheaper prices.
That comes at a useful time. The weaker pound after the Brexit vote means that U.K. food-price inflation may pick up, and while that's normally helpful to supermarkets, the danger is that they get undercut by Aldi and Lidl. Complicating the mix is a push by Asda to revive sales by becoming more aggressive on price.
Increased volumes through the manufacturing business should shave off costs for Morrison, which it can pass onto customers, to better compete.
Shares in Morrison are up by almost a third so far this year. They trade on a forward price earnings ratio of 18.1 times, ahead of the Bloomberg Intelligence European food retailing peers on 15.7 times.
That premium assumes a successful recovery strategy and a stellar performance thereafter. But that's by no means guaranteed. Although Morrison has reported two consecutive quarters of same-store growth, revenue slowed recently, according to the latest industry data.
For Morrison's nascent recovery to continue, it will need all the help it can get. The quiches have their work cut out.
This column does not necessarily reflect the opinion of Bloomberg LP and its owners.
News by Bloomberg, edited by ESM. To subscribe to ESM: The European Supermarket Magazine, click here.