Recycling Company Calls For More Plastic Waste Cooperation
Published on Feb 4 2018 10:00 AM in Packaging And Design tagged: Packaging / Recycling / Plastic Waste / Vanden Recycling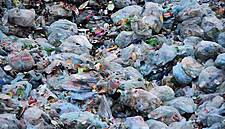 International recycling company Vanden Recycling has called the current 30% recycling rate of consumer plastic packaging 'woeful', while demanding new and cooperative approaches to waste.
The recycling company has come out wholeheartedly in support of UK retailers Iceland and Waitrose for their recent announcements to reduce their plastic waste.
However, companies need to recognise that the core problem continues to be plastic that can't be recycled easily or cost effectively, according to David Wilson, managing director of Vanden Recycling.
In particular, he stressed that single-use plastic, which can't be recycled in any way, was the biggest factor attributing to this low rate.
"Plastic packaging is an integral component for modern living," said Wilson. "Supermarket packaging keeps products safe, extends their lifespan and limits food and product waste. Its light weight has also been instrumental in reducing carbon emissions during transport. But at 30%, the current recycling rate for consumer plastic packaging is woeful."
"This is where new policy, legislation, design, behaviours and processes must drive change. We all need to work together to find ways of managing single use plastics out of the system."
Momentum
The company said it would like to help retailers by bringing their recycling expertise to the table of the packaging design process.
"The momentum for change and improvements in recycling is stronger now than we have ever experienced. It is essential that we get this right, right now," said Wilson.
The company proposed four key elements for retailers to tackle the issue: design, convenience, price, and cooperation.
The first part acknowledged that too much plastic packaging is difficult to recycle, such as vacuum-packed meat trays with several layers of different plastic types. The cost of recycling these outweighs what the market will pay, which renders this form of packaging obsolete, the company said.
Secondly, packaging designers, retailers and manufacturers ought to design for ease of recycling, which would reduce reprocessing costs, improve quality and increase demand. It would also attract investment in UK reprocessing infrastructure.
When it comes to price, the company said that retailers need to be realistic, which means understanding that a cheap option often harms the environment the most. They should actively support innovation and UK recycling, which will improve costs and impacts in the longer term, according to the company.
Finally, the company encouraged better cooperation between UK recyclers, the design community and retailers to help make the right changes so that recycling is technically and economically feasible for all.
Recycling Infrastructure
"The UK has the recycling infrastructure in place to deal with plastic that can be recycled, the problem is managing difficult to recycle packaging that is not wanted anywhere around the world," said Wilson.
Vanden's UK plant in Peterborough processes more than 30 tonnes of recovered plastic each day. While it predominantly works with manufacturers and suppliers, it is ready to work closer with retailers too, it said.
"We are always happy to partner with retailers to help find the best solution, both technically and economically," said Wilson. "By working together, we can solve this problem. Starting today."
Last Week, the UK's secretary of state for environment and food, Michael Gove, vowed to push supermarkets on their use of plastic packaging, in a response to MP Ian Lucas in the House of Commons, who accused supermarkets of using "appalling" amounts of plastic.
This came after Prime Minister Theresa May announcing a 25-year plan for reducing waste and tackling climate change, pledging to eliminate all 'avoidable' plastic by 2042, and proposing to introduce plastic-free aisles in supermarkets.
© 2018 European Supermarket Magazine – your source for the latest retail news. Article by Kevin Duggan. Click subscribe to sign up to ESM: The European Supermarket Magazine.