As Amazon Fresh Looms, Ocado Aims To Sell More Tech Than Food
Published on Aug 28 2015 10:23 AM in Technology tagged: Featured Post / Amazon / Ocado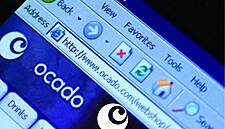 At Ocado's warehouse in Hatfield, a half-hour north of Central London by train, hundreds of red shopping crates wind their way through a labyrinth of conveyor belts.
The plastic crates make a series of pit stops, where workers fill them with any of 45,000 different products in the warehouse: corn flakes here, oysters there, bananas farther along. The crated groceries are then loaded into vans in time to make it to homes across Britain within a one-hour window.
The sophistication of the operation has many investors betting that the most important product for Ocado – the world's biggest online grocery specialist – might not be food, but technology. With the stock trading at about 140 times estimated earnings, the stakes are high.
"If you believe Ocado is simply a UK grocer, the valuation is ridiculous," said Charles Allen, an analyst at Bloomberg Intelligence, "but if you believe they have some technology to sell, then its outlook is much brighter."
Ocado has ploughed hundreds of millions of pounds into its UK distribution centres, and this, coupled with the thin margins in the grocery business, means that the company has reported just one annual profit in its 15-year history.
Amazon Fresh
Chief executive officer Tim Steiner plans to boost returns by licensing Ocado's technology to an international grocer – a prospect that he has been talking up for two years. With speculation that Amazon.com is preparing a delivery station near London to offer its rival 'Fresh' service, the pressure is mounting.
Steiner, a former Goldman Sachs banker, says that he wants to provide grocers with all of the computer technology and warehouse equipment they need to run an online service of any size. Ocado's system offers "better operational efficiency than anything that's been launched globally," Steiner said on a conference call with analysts in June. He said that the company is in advanced talks with multiple potential partners and aims to sign an international deal by December. Steiner declined to be interviewed for this article.
Andrew Gwynn, an analyst at UBS AG, cautioned that by targeting a deal this year, Ocado may have "backed itself into a corner". The credibility of any partner is paramount, and Steiner shouldn't rush into an agreement with a "lower- or mid-league" grocer that wouldn't provide the revenue boost needed to justify Ocado's investment in technology, he said.
Many of the largest potential partners already have online services, often supplied with goods directly from their own stores. Of the 24 grocers that generated at least £20 billion ($31.6 billion) in sales last year globally, all but one sell food online, according to brokerage Redburn.
In the US, Ocado faces competition from both established players and new entrants. Royal Ahold NV's Peapod, an online grocer with 25 years' experience, has said that it may consider licensing its technology.
A start-up called Instacart has a low-tech, Uber-esque alternative: instead of building warehouses and shipping operations, the company simply hires personal shoppers. Customers place an order from their favourite grocer via an app, one of Instacart's 10,000 shoppers goes to a store, picks up the goods and delivers them. Instacart is valued at $2 billion – roughly two thirds of Ocado's market capitalisation – and already counts Costco, Safeway and Whole Foods among its partners.
With an international deal elusive, scepticism still surrounds Ocado. Almost half the analysts covering the company recommend selling the stock. According to data compiled by Markit, a London research firm, traders have borrowed and sold 9 per cent of the company's shares in so-called short sales – a bet that they'll be able to buy the stock back at a lower price. That compares with an average of 1.7 per cent across the FTSE 250 Index.
"There's a lot of negative talk about Ocado's prospects, and management are sensitive to that," said Richard Hyman, an independent retail consultant in London who follows the industry closely. "Building revenue internationally is critical for their future, and they need to get their skates on."
Bloomberg News, edited by ESM. To subscribe to ESM: The European Supermarket Magazine, click here.