Brazil Retailer GPA Jumps Most In Six Years After Matching Rival
Published on Apr 30 2017 12:30 PM in Retail tagged: Featured Post / Carrefour / Brazil / GPA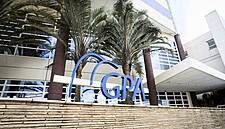 French retail giants Carrefour SA and Casino Guichard-Perrachon SA have spent years battling for dominance on their home turf. Their new big battleground is almost 10,000 kilometers away.
Brazil, Latin America's largest economy, has become a key factor in propping up Carrefour's earnings in recent years amid disappointing growth in France. The grocer's quarterly same-store revenue in Brazil has climbed between 5.6 percent and 13 percent since the third quarter of 2013, a stellar showing in a nation muddling through a two-year recession that's the worst on record.
But as Carrefour's local operations thrived, Casino's growth lagged in recent years -- until now. Casino's unit in Brazil, known as GPA, reported an almost 6 percent jump in same-store sales in the first quarter, matching Carrefour's performance for the first time in more than two years.
Share Price Increase
GPA surged 9.5 percent, its biggest jump in almost six years. Friday's gain brings the stock's year-to-date increase to 31 percent.
With expectations gaining momentum that Brazil is ready to turn a corner and emerge from its slump, both Casino and Carrefour are positioning themselves for the next big boom.
"In Brazil, when things are bad, things are really bad, but when things start becoming better, things get better really fast," said Dave Marcotte, a vice president in Tucson, Arizona, at researcher Kantar Retail.
GPA, whose full name is Cia. Brasileira de Distribuicao Grupo Pao de Acucar, said late Thursday that adjusted earnings before interest, tax, depreciation and amortization surged 16 percent in the first quarter from a year earlier to 481 million reais ($151 million). Analysts had projected 459 million reais on average. Casino shares control of GPA with Almacenes Exito SA, a Colombian retailer in which Casino has a majority stake.
"We're focused on the company performance, on making sure we're building a balanced portfolio," GPA Chief Financial Officer Christophe Jose Hidalgo said in an interview after the results were released. "Brazil is an important market, especially considering its size. It's going through a difficult moment, but it continues being relevant."
Rivalry
Casino and Carrefour's rivalry extends beyond their French roots. GPA was founded more than six decades ago by Valentim Diniz, who turned a small bakery into Brazil's biggest retailer. Diniz died in 2008. His billionaire son Abilio waged -- and lost -- a bitter fight for control of GPA with Casino that resulted in the tycoon's ouster. He then started accumulating a stake in GPA's smaller rival in 2014, becoming Carrefour's third-biggest shareholder.
Abilio Diniz, 80, now sits on Carrefour's board. On April 12, the retailer tapped a top director at Diniz's family office, Peninsula Participacoes, to occupy a second seat.
Carrefour's early foray in wholesale outlets, or atacado in Portuguese, was a big hit among Brazilians facing a record 13 percent unemployment rate and sweeping social-spending cuts. The company's Atacadao chain sells in bulk to small businesses and middle class family customers looking for cheaper prices, propping up Carrefour's sales even as nationwide retail sales in the country dropped for the 23rd consecutive month in February.
"Brazil has become a jewel in the crown, with shoppers flocking to its Atacadao stores during the recession,'' UBS analysts wrote in an April 10 report to clients. Carrefour has been studying an initial public offering of its Brazil unit and sees conditions for the transaction improving, Chief Financial Officer Pierre-Jean Sivignon said on a call with reporters in early March.
The IPO would include Atacadao, two people close to the discussions told Bloomberg last month. Carrefour bought that business for $1 billion in 2007, and has boosted its network from 34 stores to 136, representing more than half the group's revenue in Brazil, one of the people said. Assai, GPA's version of the atacado wholesale model, has 106 stores that accounted for 38 percent of the group's revenue in the first quarter. Wal-Mart Stores Inc., the third-largest retailer in Brazil, operates 44 Maxxi atacado stores.
In a sign that GPA is learning from Carrefour's success, the Brazilian grocer is planning to convert 15 to 20 Extra hypermarkets into Assai stores and open eight new locations in 2017, executives said on a conference call Friday to discuss the company's first-quarter results.
"Casino and Wal-Mart followed," said Marcotte from researcher Kantar, "but they are very much behind the curve."
News by Bloomberg, edited by ESM. Click subscribe to sign up to ESM: The European Supermarket Magazine.