Czech Makro Invests in Delivery Under New Strategy
Published on May 12 2015 2:45 PM in Retail tagged: Czech Republic / Makro / Metro / Metro Group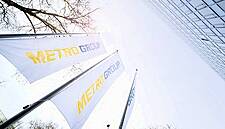 Metro Group, owner of 13 Makro wholesale centres in the Czech Republic, is launching a new business strategy.
Based on the announcement made by the company's management on Wednesday, the Czech subsidiary could see more independence.
Following several years of declining sales and a transition in which Metro has left Ukraine, Greece and Britain, the German retailer is changing the management structure of its wholesale division Metro Cash & Carry.
Metro Cash & Carry will grant its 26 national subsidiaries more entrepreneurial freedom in the future and has adapted its organisational structure for this purpose, the company said in a press release.
While the national management will be given greater responsibility for operational functions, the headquarters is changing its management structure.
In place of the currently nine-person Metro Cash & Carry Board - the so-called Extended Management Board, soon a team of ten Operating Partners will be overseeing two to three countries each, so their day-to-day activities will be focused much more sharply on the respective customers and the local demand.
The new organisational structure will be gradually implemented starting on 1 July 2015.
Heading up the management group as CEO from 1 October will be Pieter Boone, who has been managing one of the most successful national subsidiaries, METRO Cash & Carry Russia. Supervision of wholesale markets which the company operates under the brand Makro or Metro in 26 countries, was until now headed by Olaf Koch, global head of the Metro Group.
"We are planning further investments in the Czech and Slovak Republics, as there is potential for further growth in these countries," said Koch in Berlin.
The Czech Makro investment will focus primarily on the expansion of delivery services. "They already account for more than 12 per cent of all sales. More and more customers use this service," said Ivan Tučník, spokesman for Makro in the Czech Republic.
Since 1998, Makro has been operating 13 wholesale centres in the Czech Republic. Similar to other Metro subsidiaries, Makro issues customer cards to registered entrepreneurs allowing them to enter not only all Makro Cash & Carry ČR stores but also to the entire Makro / Metro network in other countries.
© 2015 European Supermarket Magazine – your source for the latest retail news. Article written by László Juhász.