DIA Targets Adding 2,000 Supermarkets in Spanish Quest for Scale
Published on Nov 4 2015 10:30 AM in Retail tagged: Spain / Dia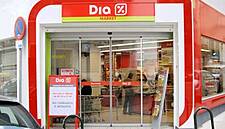 For Ricardo Curras, adding stores to the retail network of Distribuidora Internacional de Alimentacion (DIA) is key to its growth.
The chief executive officer of DIA, as Spain's second-biggest food retailer is known, says the company will add as many as 2,000 outlets in its home market over the next few years to its current 4,911 stores to increase market share and cut costs.
"In food retailing, being bigger is important because the first cost of a food retailer is the cost of goods sold," Curras said in an interview at the company's headquarters on the outskirts of Madrid. "We think we have an opportunity to consolidate the market."
DIA wants to boost its market share in Spain to 15 per cent from about nine per cent now over the next five to six years to eke out economies of scale and increase bargaining power with suppliers, Curras, 53, said. The company can pay for some of the 1,500 to 2,000 stores it wants to add with the cash it expects to generate in coming years instead of deepening its €1.14 billion debt, he said.
DIA believes it can bolster its position of relative strength in Spain's still-fragmented food retailing industry to buy up struggling store chains and take the fight to market leader Mercadona, which controls about a fifth of the share. Even in Brazil, where sales have slowed, the company will open more stores next year to expand beyond Iberia, which accounts for about two-thirds of revenue, Curras said.
Discount Model
DIA, founded in 1979, helped introduce the discount store model to Spain and began its international expansion in 1993, when it opened its first stores in Portugal. The company, which exited Turkey in 2013 and sold its 865 French stores to Carrefour in 2013, is now focused on its core markets in Iberia, Brazil and Argentina.
Unusually for a company in Spain, where family ownership is still common, almost all of DIA's shares trade on the stock market. DIA shares are up 4.7 per cent this year, compared with a 17 per cent gain for the Dow Jones STOXX Total Market Food & Drug Retailers Index.
"Sentiment towards DIA has been affected by the general malaise in food retailing, continued same-store sales declines in Spain and emerging market exposure to Brazil and Argentina," said Charles Allen, a global retail analyst at Bloomberg Intelligence.
Spanish economic growth, which the government predicts will reach 3.3 per cent, is driving consumer demand. Retail sales have risen for 14 months in a row as shoppers, buoyed by improved employment prospects, step up their spending.
Even so, low inflation in Spain and a shrinking population mean it's still a tough environment for the small regional and local store chains that make up about half of the country's food-retailing industry, said Curras. That opens up opportunities for DIA to buy up stores as it did with its purchase of the 451-store El Arbol chain in 2014 and 144 Eroski brand stores earlier this year.
Generating Cash
"From my point of view there will still be people in the market that will sell," said Curras, a mathematician by training who joined the company in 1986 as a management-control analyst.
DIA expects its cash generation over the next two years will be "much higher" as one-off costs and capital expenditure needs diminish after revamping the Arbol and Eroski stores, he said. The company probably won't make an acquisition in 2016, he said.
"The cash generation of DIA will be very strong in the next years - I know that the market is not taking that into account yet," said Curras. "I think we can afford to make some acquisitions without extra debt."
In Brazil, DIA will open 130 stores this year and a similar number in 2016, Curras said. The company has cut the number of full-time employees and is paring costs of store leases and power bills as it navigates a Brazilian economic crisis that is slowing sales and will "not be short," he said.
DIA continues to seek growth in China, where its 381-store business will break even sometime next year as it targets 10 per cent annual sales growth there, Curras said.
"We believe we first of all have to be profitable in the country, have a good organic expansion plan, which is possible," he said. "Then when you are profitable and at a certain level of size, you can think about acquisitions."
News by Bloomberg, edited by ESM. To subscribe to ESM: The European Supermarket Magazine, click here.