Giants Of Retail Roll Into Iceland In End To Price Tyranny
Published on Aug 15 2017 10:00 AM in Retail tagged: Iceland / Costco / Icelandic Retail / Hagar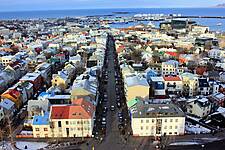 A common complaint heard on the streets of Reykjavik - apart from the weather - is about prices. A standard burger will set you back as much as $20, while branded sneakers cost double what they sell for in the US. That's about to change.
Nearly eight years after McDonald's pulled out of Iceland due to spiralling costs, international retail giants are now flocking to the north Atlantic island, attracted by a booming economy and a surge in purchasing power.
Costco Wholesale, the US-based chain, inaugurated its first Icelandic store in May. Swedish clothing colossus H&M plans to open two shops there by the end of the month. Dunkin' Donuts jumped the gun in 2015.
Consumers are loving it. The central bank, which is eager to cut rates to prevent the krona from appreciating, is welcoming the competition as a potential counter to growing wage pressure on inflation. Local retailers are a little less impressed.
Love-Hate Relationship
Costco has already sold more than 80,000 membership cards, meaning one in four Icelanders have snapped one up. Some established rivals are already cutting prices, others are pulling out altogether. The combined sales of Costco's traditional competitors in Iceland fell 3.6% in June compared with the same month last year, according to the Centre for Retail Studies.
Iceland's biggest retailer, Hagar, which in 2016 controlled about half of the country's convenience goods market, has seen its share price drop by a third over the past three months. Hagar has already closed a number of clothing stores in anticipation of H&M's arrival, with its stock falling as much as 7% on August 8 after it reported reduced sales in its interim financial statement.
A reliance on imports from far flung places (the closest European capital, Dublin, is 1,500 kilometres away) means generations of Icelanders have grown accustomed to high prices. Its relatively small size (the population totaled 344,000 in the second quarter) also hampers competition among retailers.
"We're used to just paying up because we can't go anywhere else, and that is why people welcome Costco," said Brynhildur Petursdottir, chief editor of the Consumer Association's newsletter.
Right Timing
Now that the Icelandic crisis is officially over - capital controls that were introduced in response to the 2008 collapse of the its main banks have been removed - foreign retailers are sensing an opportunity. Not only is the economy predicted to grow at a rate close to 6% this year, having expanded at more than 7% in 2016, the strong krona also makes foreign products more competitive. Christmas online sales, spearheaded by Amazon, surged 14.6% on the previous year.
"The time is right," said Kristin Fjeld, a local H&M representative, of the company's expansion plans in Iceland.
Opening up the market to more competition may shake Iceland in other ways as well.
Asta S. Fjeldsted, the managing director of the Icelandic Chamber of Commerce, said she welcomes international competition as a healthy development but notes that local companies are at a disadvantage since "it is difficult for them to reach the same economies of scale." Fjeldsted said local rules need updating to reflect a globalised world after the country's competition authority blocked a proposed merger between Hagar and one of the big local pharmacies.
News by Bloomberg. Click subscribe to sign up to ESM: The European Supermarket Magazine.