M&S's Endless Revivals Are Grinding Down Its Retail Soul: Gadfly
Published on Nov 9 2017 8:30 AM in Retail tagged: M&S / Marks & Spencer / Steve Rowe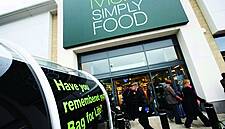 Marks & Spencer's strategic pronouncements come along almost as often as new frocks in its stores. This time round there are tweaks to the plan it set out a year ago. But for investors, there could be far-reaching and costly consequences.
On Wednesday, following the arrival of famed turnaround specialist Archie Norman as chairman two months ago, the company said it would speed up clothing store closures and slow down its stand-alone food expansion.
Going faster on mainline shop shutterings is sensible. The cuts unveiled a year ago by Chief Executive Officer Steve Rowe always looked too late and probably too little. The 30 closures of stores combining both clothing and food are now likely to be the minimum.
Cutting back on Simply Food openings is also welcome - if also overdue.
M&S's food sales suffered in the financial crisis, as customers balked at paying its high prices. With incomes being squeezed, and competition from all the mainstream supermarkets, as well as the German discounters Aldi and Lidl, that looks to be happening again.
This time M&S has also got increased input costs to contend with. Add in more promotions to tempt customers and the food gross margin fell by 1.3 percentage points in the first half. That pressure is set to continue for the remainder of the year.
More reductions in cost - another element of the finessed strategy - are badly needed. Rowe's made a good start here too, but much more pruning is necessary.
Clothing Business
But other elements are more worrying.
M&S says it wants to be the UK's "essential" clothing retailer. If that's code for trying to compete with Primark, then investors should be on guard.
Prices went too high under Rowe's predecessor, Marc Bolland. M&S was then forced to discount heavily to shift stock that didn't sell, confusing customers.
Rowe deserves credit for moving prices down on 2,500 lines and dramatically curtailing promotions. Indeed, part of the reason for the sluggish clothing and home furnishings sales over the past year is that M&S has been deliberately reining in special offers.
M&S can't compete with the likes of Primark on low prices. It has been down that route even further back in its history, and that didn't stop it losing market share in clothing, either.
Rather than cutting prices further, Rowe and Norman should concentrate on lifting quality, and continuing to improve other areas, such as fit, so that customers feel they are getting value for money.
There's another wrinkle in the M&S jumpsuit. The company says it wants online to account for a third of clothing and home furnishing sales, compared with just under 20% currently.
That, together with making its fashion faster, will mean more modernisation of its supply chain. With that will come more investment.
Share Drops
Bolland already spent about £3 billion pounds trying to overhaul systems and logistics, including building a state-of-the-art warehouse in Castle Donington, England.
Capital expenditure has been coming down more recently, but the prospect of yet more investment, just as the spending cycle was about to slow down, is a worry.
Some of this will be offset by cost reductions and financial discipline in other areas, but even so, the prospect of even further outlays at M&S, together with the forthcoming departure of Chief Financial Officer Helen Weir is unhelpful.
Shares in M&S have fallen about 17% since it unveiled its full-year profit report in May. They trade on a forward price earnings ratio of 11.6 times, on a slight premium to Next.
That looks about right given that both companies are facing increasingly similar issues, such as an aging customer base and sales migrating online, leaving them with too many stores.
M&S is grasping the nettle and doing many of the right things. The trouble is, they will be time consuming and costly. And despite Archie Norman's history of sprinkling magic dust on struggling retailers, it may still not be enough to stem the decline, particularly given the darkening outlook for the British high street.
News by Bloomberg, edited by ESM. Click subscribe to sign up to ESM: The European Supermarket Magazine.