Maxima Group Sees 3.7% Turnover Growth in 2015
Published on May 30 2016 5:05 PM in Retail tagged: Poland / Bulgaria / Maxima Group / Baltic / Lithuania / Latvia / Estonia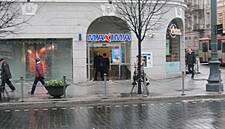 Baltic region retail group Maxima increased its annual turnover by 3.7% in 2015, earning a total €2.68 billion.
Profit after tax hit €77 million, as the group showed strong performances in its Lithuanian and Polish markets. In Estonia, Bulgaria and Latvia large-scale investments meant the Maxima companies in these regions finished the year with a loss.
In Lithuania, it grew by 2%, earning €1.524 billion; in Latvia by 2.1% and amounted to €689 million; in Estonia by 9.9% with a turnover of €440.8 million; in Bulgaria by 10.2%, which was equal to €72.5 million; and in Poland by 17.8%, with a figure of €45.4 million in the audited turnover.
The group announced it will increase the amount it spends on investment and redevelopment in 2016 by a third. It will spend almost €100 million, with over half allocated for its Lithuanian operations.
Maxima group comprises 528 stores across several brands in Lithuania, Latvia, Estonia, Bulgaria and Poland. It operates stores under the Maxima X, Maxima XX, Maxima XXX, Aldik and T-Market banners.