Merkel: What a Fourth-Term Bid Means for Markets
Published on Nov 21 2016 12:30 PM in Retail tagged: Featured Post / Retail / US / Germany / Market / Merkel / Bloomberg / trump / NATO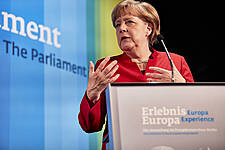 With political turbulence all around, Angela Merkel's announcement on Sunday that she'll seek another term in next year's federal elections provides investors with the prospect of four more years of a German chancellor whose style of leadership they've come to understand.
During nearly 11 years in office, Merkel has held the euro area together, refrained from criticising European Central Bank policies, stood up for economic sanctions against Russia and a strong NATO military alliance while being vocal in her support for free trade.
Uncertainty about her intentions has been a 'nagging tail risk' for markets, according to Holger Schmieding, chief economist at Berenberg. Here's a look at the potential impact on taxes, monetary policy and geopolitics now that risk has been removed.
Stocks
Germany's benchmark DAX index rose as much as 0.5% on Monday after Merkel's announcement before paring gains. While the DAX reached a record on her watch in April 2015, the index now is about 14% lower. Investors largely priced in that Merkel would run again, so seeking re-election eliminates "the potential for a negative shock" had she decided to step aside, said Jacob Funk Kirkegaard, senior fellow at the Peterson Institute for International Economics. In the longer term, stocks may decline as Merkel's refugee policy spurs a populist backlash that "will weigh on the market," said James Butterfill, head of investments and research at ETF Securities in London.
FX
The euro rose in early Asian trading after the news of Merkel's candidacy broke, with the yen touching 111.19 per dollar after last week's 4% slide, the biggest since July. After gains fuelled by bets that the Fed will raise rates on President-elect Donald Trump's pledge to boost infrastructure spending, the Bloomberg Dollar Spot Index dropped 0.2% Monday, as the euro and the Mexican peso gained 0.4%.
ECB
Finance Minister Wolfgang Schaeuble has led criticism in Merkel's party bloc by suggesting the ECB's record-low interest rates are driving voters to the anti-euro, anti-immigration Alternative for Germany party. Merkel has largely avoided sniping at ECB President Mario Draghi. "For the ECB, a renewed Merkel candidacy is a bit of relief," Schmieding said. "The ECB's independence is very important to her."
Europe in the Trump Era
After the UK's vote to leave the European Union, Merkel has signalled she'll combat nationalist forces, saying only a united Europe can have global economic and moral clout. As Trump's election in the US buoys populists challenging establishment parties in next year's votes in France and the Netherlands, the outcome is partly beyond her control. In Germany's election, Merkel may respond by campaigning on law and order, external security and tax relief.
NATO and US Ties
President Barack Obama called Merkel his most important European ally during a farewell visit to Berlin. That sets a high bar for the relationship with Trump, who called Merkel's refugee policy a "disaster" and raised concerns about the US defense commitment to NATO during his campaign. Merkel left no doubt about what she wants: Germany's "fate is tied up with our membership in alliances -- the European Union, NATO," she said alongside Obama on 17 November. Germany is already boosting defense spending to show it's willing to take on more of the burden in the trans-Atlantic military alliance, though still has some way to go to meet the 2% of GDP target.
Brexit
No letup in sight for Theresa May as Merkel champions a hard line on Britain's new relationship with the EU. She's ruling out informal negotiations before the UK officially declares its exit -- and did so again in May's presence on Friday -- while standing firm on demanding that the UK allow free entry of EU nationals as part of any deal granting full access to the bloc's market.
Russia
The new US administration's stance toward Vladimir Putin is a wild card that could put pressure on Merkel. If Trump eases US sanctions imposed on Russia for its role in Ukraine's armed conflict, that might encourage countries such as Italy opposed to EU penalties that Merkel has worked hard to preserve. At the same time, she is the main conduit for diplomacy with Putin. Obama, Merkel and four other European government leaders agreed on 18 November to maintain sanctions on Russia until Putin "fully meets" the Minsk accord's conditions for ending the conflict in eastern Ukraine.
Electoral Math
Merkel's key asset is that she represents stability, something she told party leaders on Sunday when announcing her decision. "The uncertainty in the market, especially the political and economic instability, has never been as pronounced as it is today,'' Commerzbank AG Martin Zielke said at a banking conference on 18 November. Polls suggest Merkel could extend her Christian Democrat-led coalition with a weakened Social Democratic Party if she wins re-election. The Alternative for Germany, or AfD, is poised to win seats in parliament for the first time, though its leaders have said they aren't interested in joining any government. A coalition between the SPD, Greens and anti-capitalist Left party isn't in the cards for now.
News by Bloomberg, edited by ESM. To subscribe to ESM: The European Supermarket Magazine, click here.