Onions-for-One Help Korea's GS Retail Survive Depressed Markets
Published on Jul 23 2015 7:35 AM in Retail tagged: Convenience Stores / Korea / GS Retail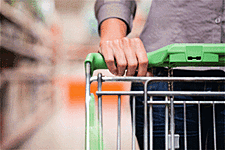 Convenience store owners love people like Bae Moon Sung. The 34-year-old finance worker lives alone and shops for almost everything at his local minimart.
"Onions, cucumbers, they come in compact packages at convenience stores, which is more suitable for a single-person household like me," he said. "They're open 24 hours and they're everywhere."
People like Bae are driving an expansion in convenience store chains that's helping them outperform in depressed markets. Shares of GS Retail are up 112 per cent this year through Wednesday versus a 13 per cent slump in a gauge tracking consumer companies on the MSCI Korea Index. The risk the operator of GS25 outlets won't pay its debt on time has fallen to 0.08 per cent from 0.14 per cent at the end of 2014, according to a Bloomberg default-risk model. Shares in CU store operator BGF Retail have risen 165 per cent.
The chains' popularity is in stark contrast to the overall industry in Asia's fourth-largest economy. Department store sales fell 3.9 per cent in the first quarter, and that was before a deadly respiratory virus sapped confidence. Smaller households in Seoul as the population ages and family sizes shrink means consumers aren't buying in bulk at supermarkets.
"Retailers are suffering from low economic growth and online price competition," Yu Jung Hyun, an analyst in Seoul at Daishin Securities, said. "But convenience stores have their own market. People still need to buy basic items close at hand."
Sales at the four main convenience store chains -- CU, GS25, 7-Eleven and Buy the Way -- have risen every quarter since at least the second three months of 2013, Ministry of Trade, Industry & Energy data show. In May, sales were up 31.5 per cent from a year earlier thanks to more outlets and an increase in the price of cigarettes. Discount store sales meanwhile have dropped every quarter since the second quarter of 2012, the ministry's data show.
Bloomberg News, edited by ESM