As Short Sellers Ambush M&S, Investors Pin Hopes On Norman
Published on Feb 5 2018 10:30 AM in Retail tagged: UK Retail / M&S / Marks & Spencer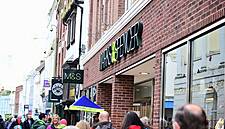 As short sellers swoop on Marks & Spencer, value investors are pinning their hopes on a man with a history of turning around struggling businesses.
Archie Norman, 63, a former lawmaker who joined the iconic British retailer as chairman in September, is credited with leading the Asda supermarket chain from near bankruptcy in the early 1990s to a £6.7 billion sale to Walmart in 1999. Shares in broadcaster ITV rose more than 300% during Norman's six-year tenure as chairman there.
Some investors have faith he can have a similar influence on M&S, which traces its roots to a market stall in Leeds in 1884 and is best known for its blend of own-brand food and clothing.
"I think he recognises that there are issues in the business and that those issues need dealing with," said Martin Walker, a fund manager at Invesco Perpetual who holds M&S shares in the firm's UK Growth Fund and UK Focus Fund.
"That may lead to some volatility in terms of business in the next 12, 18, 24 months, but ultimately it makes the business potentially worth a lot more in the longer term."
Doubters prevail. With short interest hovering near a record high, M&S is among the most-shorted stocks in the FTSE 100 Index alongside grocery peers Sainsbury's and Morrisons, according to IHS Markit data. Much-younger online rival Asos overtook M&S in terms of market capitalisation in November.
Growing Competition
M&S is among UK retail stocks that Simon Murphy, a fund manager at Old Mutual Global Investors, says he's cautious about. Credit Suisse analyst Pradeep Pratti said the retailer looks increasingly like " a value trap" in a January 24 note, lowering his recommendation on the stock to underperform.
Supermarket chains have spent years struggling against the growth of discount grocers, and department and toy stores are taking hits from Amazon as more shoppers switch to online shopping.
Compounding their predicament in 2017 was the pound's decline, which pushed up inflation amid stagnant wage growth. M&S last month reported a drop in sales over the Christmas period.
Invesco's Walker, who hunts for value stocks, says M&S has enough cash to fix the business and its dividend is secure. He sees the consumer environment improving later this year. M&S's perception as an iconic British brand also counts in its favor, he said.
"There are very few businesses in the UK that, if they cease to exist tomorrow, the population of the UK would be upset about," said Walker, who is based in Henley on Thames, England.
"M&S is one of those businesses. There's a huge amount of latent goodwill stored up in the M&S brand in terms of our cultural heritage and I think that gives it a good opportunity to recover its product proposition."
'Shake Things Up'
Walker's view is shared by Tawhid Ali, a fund manager at AllianceBernstein in London. While he has "very little exposure" to the UK consumer in the firm's European Equity Portfolio, which has beaten 97% of peers in the past year, M&S makes up "a little below" 2% of the holdings, he said.
Ali is attracted to M&S's strong brand and sees the potential for the company to make savings that could be redeployed into improving the supply chain and the company's online presence.
"M&S is an institution steeped in history," Ali said. "It's an institution steeped in bureaucracy. There's a lot of inertia and you really need someone like Archie to shake things up."
He points out that M&S's earnings have remained relatively stable despite the competitive threat from other retailers and online rivals. Annual adjusted earnings before interest, taxes, depreciation, and amortisation have stayed above £1 billion since 2006, according to data compiled by Bloomberg.
Forget "the noise," said Ali. "That's the way we look at it. At the end of the day, this isn't something that's broken."
News by Bloomberg, edited by ESM. Click subscribe to sign up to ESM: The European Supermarket Magazine.