UK Retailers See 0.2% Footfall Increase In November
Published on Dec 14 2017 8:00 AM in Retail tagged: UK Retail / Footfall / BRC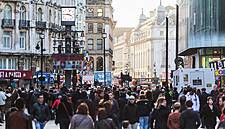 UK retailers have seen a marginal rise in footfall of 0.2% year-on-year for November, a slight improvement from November 2016, when it fell by 1.0%, according to new figures.
Data released by the British Retail Consortium (BRC) shows that the increase during the four weeks up to 25 November is above the three-month rolling average of -1.0% and the 12-month rolling average of -0.4%.
The strongest growth was recorded in the south east and north of England as well as in Yorkshire, each area showing an increase of 1.6%. This was followed by the West Midlands (1.1%), East Midlands, Wales (0.9%), and the east of England (0.8%), according to the BRC.
Greater London experienced a slight decline of 0.1%, which marks a slowdown compared to last year's decrease of 0.8%. The only retail location showing an increase in the capital was the High Street but, overall, the city and surrounding area are experiencing their fifth consecutive month of decline, according to the BRC.
The biggest decline in footfall was recorded in Northern Ireland (2.4%), followed by Scotland (2.0%) and South Wales (1.5%).
Shopping Centre Woes
Shopping centres performed worst of all three types of retail locations, growing only in the south west of England and Wales.
In contrast, the High Street showed positive growth across all regions but three: Greater London, Northern Ireland and south western England.
There was continued growth for retail parks, however at a decelerated rate 0.3% (3-month rolling average) compared to 1.8% six months ago, according to the BRC.
"November saw a slightly improved picture for shopper footfall as retailers enticed customers with early deals in the lead up to Black Friday," said Helend Dickinson, CEO of the BRC.
"And while online continues to take the greatest share of Black Friday sales, stores continue to prove popular for visitors as showrooms as well as click and collect destinations."
Dickinson added that the month's growth is not likely to signal a reversal of the longer term trend of decline.
"As price increases for food continue to eat into household finances, consumer spending power for discretionary non-food items will inevitably weaken," she said. "So a cautious consumer may sap some of the sparkle from this year's Christmas trading, which means retailers are going to have to compete even harder for customer spend, which is always good news for consumers.
"With these tough conditions in mind, it's crucial that the Government now negotiates the best deal for UK consumers by securing tariff-free trade and as frictionless movement of goods as possible with the EU."
'Pinch Of Salt'
Diane Wehrle, marketing and insights director at the retail analytics company Springboard, said that the marginal footfall rise of 0.2% should be taken with a "pinch of salt" and does not necessarily indicate a change in the winter fortunes of retailers.
"November was characterised by significant discounting with flash sales of up to 50% off, which culminated in the Black Friday period at the end of the month," Wehrle said.
"Whilst Black Friday was largely an online event, the rise in footfall of 3.3% from the first half of the month to the second half demonstrated that it drove activity into retail destinations, both in the lead up to it the day itself and over the weekend post Black Friday as shoppers collected online purchases."
Wehrle added that many trips were leisure rather than spending driven with footfall across all destinations rising after 5pm by 1.7% but dropping by 0.3% during retail trading hours.
"This is substantiated by the fact that whilst sales on a like for like basis in November rose, this was virtually all driven by food, whilst non-food sales dropped due to the impact of inflation on discretionary spending," Wehrle said.
"Indeed, with nothing fundamental shifting in terms of inflation or interest rates over the intervening period since October, it lends further weight to the frequently quoted argument that Black Friday simply shifted the Christmas trading calendar forward," she added. "In the light of this, we are anticipating that footfall will be further challenged into December."
Last month, the BRC warned that slow UK wage growth would tighten retailer competition over the Christmas season.
© 2017 European Supermarket Magazine – your source for the latest retail news. Article by Kevin Duggan. Click subscribe to sign up to ESM: The European Supermarket Magazine.