Unequal South Africa Sparks Grocer Investment In Poor Cities
Published on Dec 14 2015 3:59 PM in Retail tagged: South Africa / Choppies Enterprises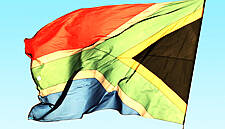 When Choppies Enterprises Ltd opened a supermarket in the South African mining town of Rustenburg, Daniel Human's life improved.
Once forced to make inconvenient trips to buy fresh food or haggle with street hawkers close to home, he's now able to purchase a greater range of produce, meat and ready-made meals, often at better prices.
"It's walking distance from my house," Human, in his mid-thirties, said as he left the Choppies outlet in the Wall Street mall, near some newly built housing developments in the town north-west of Johannesburg. "The quality is good, there are often specials, it makes prices cheaper."
Choppies, which opened its first store in Botswana in 1986, is joining far-larger South African chains such as Shoprite Holdings Ltd, Pick n Pay Stores Ltd and Wal-Mart Stores Inc.-owned Massmart Holdings Ltd in targeting a new market: South Africa's low-income citizens. The chains are expanding near taxi ranks and along bus routes to lure customers who have struggled to access formal retail chains.
"There are a lot of people with a little bit to spend, but this accumulates to quite a lot of money," said Alec Abraham, an equities analyst at Sasfin Securities in Johannesburg. "The wealthy are a small percent of the population, and the lower end of the market has historically not been sufficiently catered for."
South Africa's unemployment rate of 25.5 per cent is the highest of almost 40 emerging-market nations tracked by Bloomberg. South Africa also has one of the highest inequality rates in the world, with the poorest half of the population of 54 million accounting for less than 8 per cent of the country's income, according to the World Bank. Towns such as Rustenburg have been particularly hard hit over the past two years by mining strikes over pay and job losses, as companies seek to adjust to a platinum price that's down 29 per cent this year.
Households that earn less than 6,000 rand ($397) a month account for about 34 million people, or about 65 per cent of the population, according to a report by the University of Cape Town's Unilever Institute of Strategic Marketing. The buying behaviour of this target market is changing, where people no longer see a need to get into a taxi to buy their food, it said.
"In South Africa, it's very competitive," Choppies' chief executive officer Ram Ottapathu said by phone. "With the lower half, that is where the critical mass is and where formalisation of retail is taking place."
Massmart's Cambridge chain, which targets low-income earners, is opening stores in underserved areas near commuter centres. Offering fresh food is "very important, as many shoppers do not have fridges to store food and fresh food from hawkers can be expensive", the Johannesburg-based company said in an emailed response to questions. At Pick n Pay's Boxer outlets, which sell a limited range of food at lower prices, proteins such as meat make up about 30 per cent of sales, chief executive officer Richard Brasher said.
"In South Africa, more people have got less than those who've got more," Brasher said.
Choppies plans to increase its stores by almost 25 per cent to 159 in the year through June. Shoprite expects to have 2,255 at the same time, across all brands. The Cape Town-based retailer had more than 100 million customers at its USave budget outlets in the 2015 financial year, it said, without releasing specific growth figures.
South Africa's consumer confidence index slumped to -14 in the fourth quarter, only the third time since South Africa's first democratic election in 1994 that it dropped to below -12. Massmart shares have fallen 32 per cent this year, while Shoprite has lost 24 per cent. With consumer spending expected to come under more pressure in the first half of next year, retailers are seeking to expand their customer base, Abraham said.
Succeeding in the low-income market isn't always easy for retailers. Profit margins aren't as wide as in high-income markets, billionaire Shoprite and Pepkor Ltd chairman Christo Wiese said by phone. While it's harder to get handsome profit margins when selling to such customers, the payoff is in its size, Choppies' Ottapathu said.
"It's a game between the margin and the volume," he said. "You need to be very alert to make sure you get this balance right."
With its clean outlets and modern layout, Choppies also attracts some well-off customers in Rustenburg. Kyle Hundermark, a resident in his early twenties from a more affluent part of town, says that he normally shops for groceries at Pick n Pay, but when he is at the Wall Street mall, he will pop in to Choppies, especially for its meat.
As the fight for shoppers in South Africa intensifies, retailers are also pushing into sub-Saharan Africa, which has a retail market of more than $420 billion. Food accounted for about 65 per cent of Africa's total retail sales of $823.2 billion in 2013, according to a November report by Deloitte Touche Tohmatsu Ltd. Choppies, which listed in South Africa in May and is also adding shops in Zimbabwe, Zambia and Kenya, was the fastest-growing retailer in the region, according to the same report.
Pepkor, South Africa's biggest retailer, is considering adding some food to its stores, Wiese said. "In that lower end, it's certainly not a walk in the park," he said. Yet, in Africa, "that's still where the bulk of the market is".
News by Bloomberg, edited by ESM. To subscribe to ESM: The European Supermarket Magazine, click here.