Amazon's Whole Foods Lures New Shoppers From Wal-Mart, Sprouts
Published on Oct 7 2017 9:00 AM in Retail tagged: Trending Posts / Amazon / US Retail / Whole Foods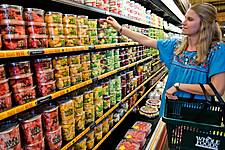 Amazon's takeover of Whole Foods Markets has shaken the grocery business. Walmart Stores, Trader Joe's and Sprouts Farmers Market may be hurting the most so far.
Whole Foods' foot traffic from new shoppers jumped 33% in the first week following Amazon's acquisition, and Walmart regulars accounted for the largest percentage of first-time customers, according to research firm Thasos Group.
Amazon acquired the epicurean organic grocer in August for $13.7 billion, a move that sent shares of grocery rivals tumbling. The day Amazon completed the deal, it cut some Whole Foods prices by as much as 43%. In many cases, the reduced prices were still higher than similar items at Walmart.
Still, that week, 24% of new Whole Foods shoppers were previously loyal Walmart customers, Thasos reported. That same week, 16% of first-time visitors used to be regular shoppers at Kroger Co., while 15% came from Costco Wholesale Corp., according to the firm, which tracks shoppers who agree to share their location with smartphone apps.
Smaller grocers Trader Joe's and Sprouts provided fewer new shoppers, but the losses were larger relative to the size of their customer bases. Trader Joe's saw about 10% of its regular customers go to Whole Foods, while for Sprouts it was 8%, Thasos found. About 3% of Target customers defected.
US Grocery Market
Amazon remains a small player in the $800 billion US grocery business, which is dominated by mega-chains like Walmart, Kroger, Costco and Albertsons. The new customers migrating to Whole Foods from Walmart make up less than 1% of Walmart's customer base, Thasos noted. It is also unclear if Walmart customers are defecting permanently or are temporarily curious about Whole Foods following a spate of media coverage.
Even so, a temporary loss of loyal customers to Amazon is a concern for the world's largest brick-and-mortar retailer, which has struggled to position itself against the e-commerce giant, said Kirthi Kalyanam, director of the Retail Management Institute at Santa Clara University.
"The data is a striking indication of the latent demand that exists for quality organics. Walmart is no doubt preparing to work extremely hard to overcome deep-set perceptions that its organics are of a lower quality than those found at Whole Foods."
Walmart is relatively new to selling organic fruits, vegetables and pantry staples. In 2014, inspired by the growing success of Whole Foods and record sales of pesticide-free produce, Walmart embarked on a nationwide expansion of its organics selection.
It also promised to sell the items for the same price as its non-organic products. The indistinguishable pricing model may make it hard for Walmart's customers to believe they're getting the highest quality organic produce compared with Whole Foods, said Kalyanam.
This may explain why shoppers flocking to Whole Foods are also Walmart, Kroger and Costco's wealthiest customers. Thasos' study, which compiled location data from 30 million phones across the US, found that Amazon's price reductions didn't lure lower-income shoppers. Whole Foods' new customer base makes an average of about $77,000 a year, which is about the same annual income for customer's that were loyal to Whole Foods before Amazon's acquisition.
Following Amazon's price cuts, lower-income shoppers were not persuaded to travel into wealthy neighbourhoods, where Whole Foods stores are predominantly located, Thasos data show. The finding suggests Amazon will have to cut prices further to attract these customers.
News by Bloomberg, edited by ESM. Click subscribe to sign up to ESM: The European Supermarket Magazine.