Whole Foods to Introduce New Line of Stores Aimed at Millennials
Published on May 6 2015 9:55 PM in Retail tagged: Whole Foods / Whole Foods Market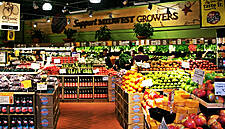 Whole Foods Market plans to introduce a new store concept targeted at millennials.
The stores will have their own brand and offer products at value prices, the Austin, Texas-based company said Wednesday in a statement. Whole Foods said it is building a team to focus on the new stores and negotiate leases. The first locations will open next year, and the expansion will be "fairly rapid." The company will share more details on the plan before Labour Day.
"We believe the growth potential for this new and complementary brand to be as great as it is for our highly successful Whole Foods Market brand," co-chief executive officer Walter Robb said.
In related news, Whole Foods Market shares fell in extended trading after reporting revenue and comparable-store sales that trailed analysts' estimates.
Revenue in the fiscal second-quarter was $3.65 billion, the company said in a statement on Wednesday. Analysts projected $3.7 billion. Comparable-store sales growth slowed to 3.6 per cent in the quarter, compared with 4.5 per cent in the prior quarter.
Whole Foods has been lowering prices, especially on produce, as it battles competitors, who are selling more organic and local fare. The less-expensive food hasn't been able to stop some customers from defecting to other chains, including Kroger and Wal-Mart Stores, which also sell organic items.
Bloomberg News, edited by ESM