Rewe To Introduce Reduced-Sugar Private Labels
Published on Jan 11 2018 2:40 PM in Private Label tagged: Germany / private label / Rewe / reduced sugar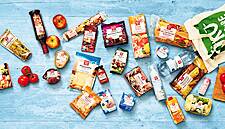 German retailer Rewe has announced plans to introduce around 100 reduced-sugar products to its private-label range this year.
As part of a new campaign, the retailer has said that it will make all its own brands available with reduced sugar by 2020, in an effort to prevent diseases like obesity, diabetes and heart disease.
"Rewe wants to make a relevant contribution to reducing the intake of sugar among our customers," said Hans-Jurgen Moog, responsible for the sugar-reduction strategy in purchasing and private label at Rewe.
"In that respect, reductions make complete sense," Moog added, "but it is also clear that an optimised recipe is only one component of a balanced diet, and information, knowledge and physical exercise are also key factors."
Online Campaign
To kick off the campaign, Rewe will allow customers to vote online on a select product's sugar content, from 15 January until 12 February.
Customers will be able to vote on reducing the sugar content of a four-pack of chocolate pudding by 20%, 30% or 40%, without including artificial sweeteners. The most popular formula will be available from Rewe following the campaign, according to the retailer.
The online campaign will run under the name 'You are sugar: how much sugar do you need?', presented by a network of experts including TV host Anastasia Zampounidis and nutritional expert Christine Blohme.
The experts will help consumers on their gradual path to a sugar-conscious diet in their everyday life, through inspiring recipes and expert tips, according to Rewe.
"Sugar isn't inherently bad, but we often eat significantly more of it than is good for us," said Blohme. "This is partly due to a widespread habit of eating sweets. Also, sugar often comes in forms and under names that customers might not be aware of, and knowing these can help them make a more conscious choice."
Zampounidis said that, from her own experience, taste preferences are a habit, and can thus be changed. "Food, naturally, has a wide variety of aromas, which are often masked by adding sugar. Anyone who has tried reducing or leaving out sugar at one point or another will quickly realise that this does not make a product lose its taste, but makes it better instead, so I think the initiative is right and important."
European Trend
Other European retailers have recently caught on to the reduced-sugar trend, too.
Portuguese hypermarket chain Continente launched a campaign to improve the nutritional value of its private-label products last month.
Elsewhere, Coop Sweden relaunched seven of its private-label soft drinks, removing artificial sweeteners and cutting down the calorie content by 50kcal, after reducing the sugar content by 20%.
© 2018 European Supermarket Magazine – your source for the latest retail news. Article by Kevin Duggan. Click subscribe to sign up to ESM: The European Supermarket Magazine.